Garages have a reputation of being cold, musty, and uninviting. A great way to give your garage new life is by installing a carpet to cover the non-insulating, ugly cement floor. If you've dreamed of using your garage as an extension of your home during all four seasons, you've probably considered the idea of putting carpet in your garage. If you spend a lot of time in your garage hanging out, working on projects or just working out, you might want a little more insulation and comfort than what a cement floor can provide.
Can You Put Carpet in A Garage?
Yes, you can put carpet in a garage. This is a common trend that garage-owners have been doing for decades. Installing carpet can transform your garage into a cozy addition to your home, with minimal effort. There are a lot of factors you should consider when deciding whether or not to put carpet in your garage. You should consider both your primary use for the garage as well as the type of carpet you would need.
Garage Use – Should You Put Carpet In Your Garage?
Consider first how much time you will spend in your garage. If you spend a lot of time in your garage, you may want it to feel more comfortable and inviting. You will likely be spending a lot of time there if you plan to use it as:
A workshop
A playroom
A hang-out spot
A living space
A personal gym
If any of these are how you plan to use your garage, carpet could be a great idea for providing insulation and comfort. Carpet can protect your feet from a cold cement floor, allow year-round use due to its insulation, and improve the aesthetic quality of your garage.
Installing carpet could be more trouble than it's worth if you don't plan on spending a lot of time in your garage. You may not benefit from installing carpet if you are primarily using your garage as:
A place to park your vehicle after daily use
Storage
If this is the case, you probably won't spend much time in the garage, and comfort and insulation aren't as vital. In addition, frequently moving your vehicle in and out of the garage would cause carpet to wear out quickly and need to be replaced often. Potential fluid leaks from your vehicle are also more difficult to clean up when they soak through a carpet, rather than form a puddle on cement flooring.
If you do elect to install carpet in your garage, it is important to consider what kind of carpet you purchase.
Choosing A Garage Carpet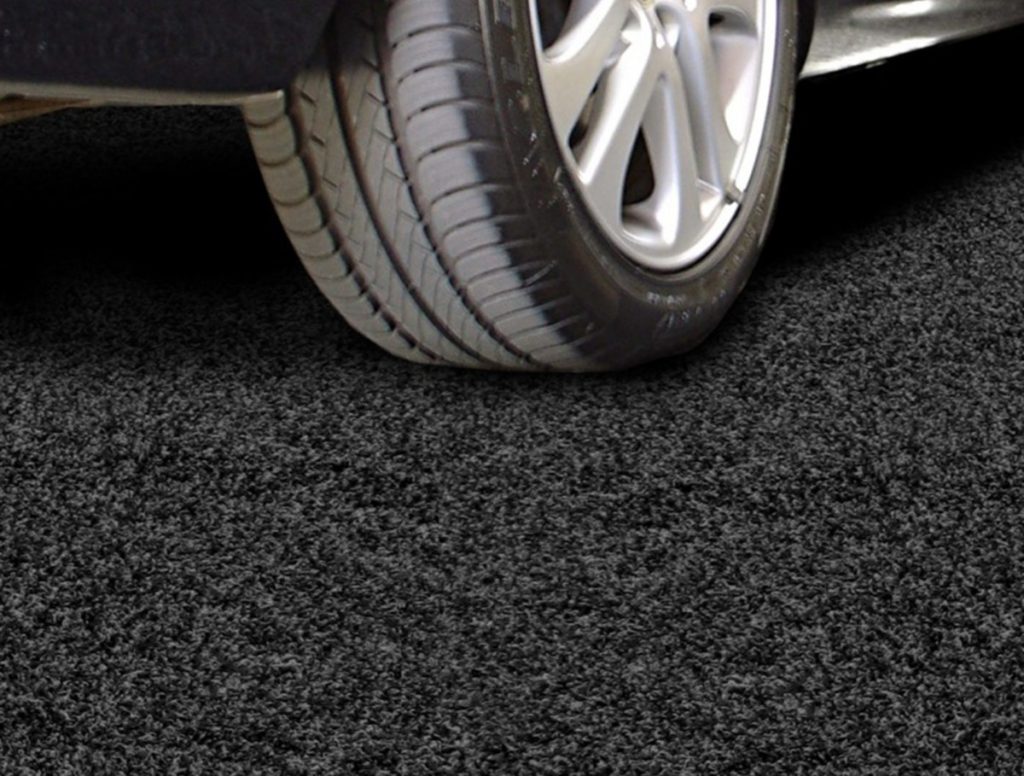 Your choice of garage carpet is extremely important. When purchasing garage carpeting, look for carpet that is:
Marketed for automotive use
Made of polypropylene or olefin synthetic fiber
Made with a rubber marine backing
Polypropylene is what makes outdoor carpets more resistant to mold and mildew and more flame retardant than indoor carpets. Most carpets marketed for automotive or outdoor use will be made of one of this material, but you should double check before purchasing.
Rubber marine backing protects carpets from excessive moisture from the air, weather, and your vehicle. This in turn prevents mildew from developing and ensures the carpet won't become musty and smelly.
Once you've identified a carpet made of the proper materials, you can choose whether you want to install a roll of carpet or carpet tiles. A roll of carpet is installed like any other indoor carpet and must be cut to the proper dimensions.
Carpet tiles are a popular alternative due to their minimal effort for installation. Carpet tiles are small pieces of carpet that are pieced together like a mosaic, to completely cover a bare floor. Details on installation for both types of garage carpet are described in further detail later in this article.
Some people attempt to repurpose excess carpet from indoor carpeting projects to cover their garage floor. While this seems like an obvious money-saver, itis not recommended to use the same kind of carpet in a garage that you would use inside your house. These kinds of carpets, generally referred to as "indoor carpet", are not suitable for use in a garage for several reasons.
Indoor carpets aren't resistant to moisture, and therefore can easily become mildewed and moldy when placed in a garage. Not only is this a smelly nuisance, it's a health risk as well.
Indoor carpets are also fairly flammable. It is likely that you'll have flammable liquids in your garage, such as gas, oil, or propane. In the event of a spill, these liquids will soak your carpet and can become ignited in the presence of a small spark. Indoor carpets will readily catch fire in this event, and the fire can spread throughout the rest of your home.
If you are considering carpeting your garage, you should purchase carpet specifically designed for the task. Carpets marketed for outdoor use are typically resistant to mold and mildew, and are generally more flame retardant than their indoor alternatives. These carpets generally will melt if ignited, rather than catch fire and compromise the rest of your home.
The Pros of Carpet in Garage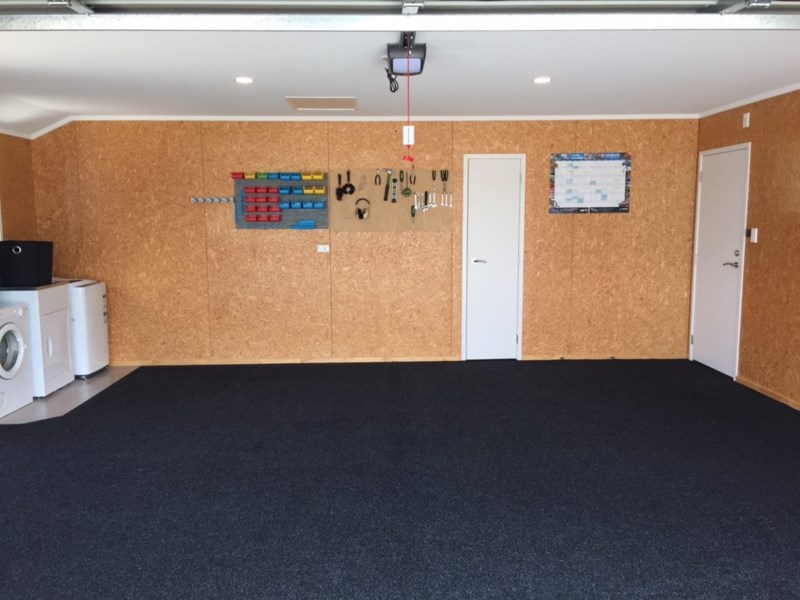 There are many advantages of installing carpet in a garage. These advantage include:
Insulation during cold months
A more versatile and inviting space
An easier to clean floor, by vacuuming instead of sweeping or mopping
Noise reduction
Easier on knees and back if frequently working on vehicle
Due to these advantages, carpeting in a garage opens up more possibilities for its use. The garage can be a year-round hang out spot, gym, or play area when properly insulated with carpet.
The Cons of Carpet in Garage
Sometimes, inconveniences of installing carpet in a garage outweigh the benefits. Some of the cons of installing carpet in a garage are:
Rapid wear due to frequently moving your vehicle in and out of the garage
Liquid spills are more difficult to clean off of carpet than cement
Rolling items, such as toolboxes, can be more difficult to move than on concrete.
How To Install Garage Carpet
Once you've determined that you want to install carpet in your garage and chosen the correct carpet, it's time to install it. When installing a roll of garage carpet, follow the steps below:
Clean and repair any uneven areas of the concrete floor
Roll out the carpet across the garage floor and cut with a utility knife, so it fits flush against the walls.
Roll the carpet back up, and apply adhesive to the concrete floor.
Roll the carpet back out across the floor, and secure it using a 100-pound flooring roller.
Garage carpet tiles are much easier to install than roll-out carpeting. When using garage carpet tiles:
Clean and repair any uneven areas of the concrete floor.
Starting in one corner, place your interlocking carpet tiles on the garage floor. No glue or tape is necessary.
When you've reached the opposite walls, cut the tiles if needed to fit flush against the wall.
Be sure to keep any extra tiles you may have, in case a tile becomes damaged or stained. You can easily swap out the old tile for a brand new one, with very little effort.
Garage Carpet Alternatives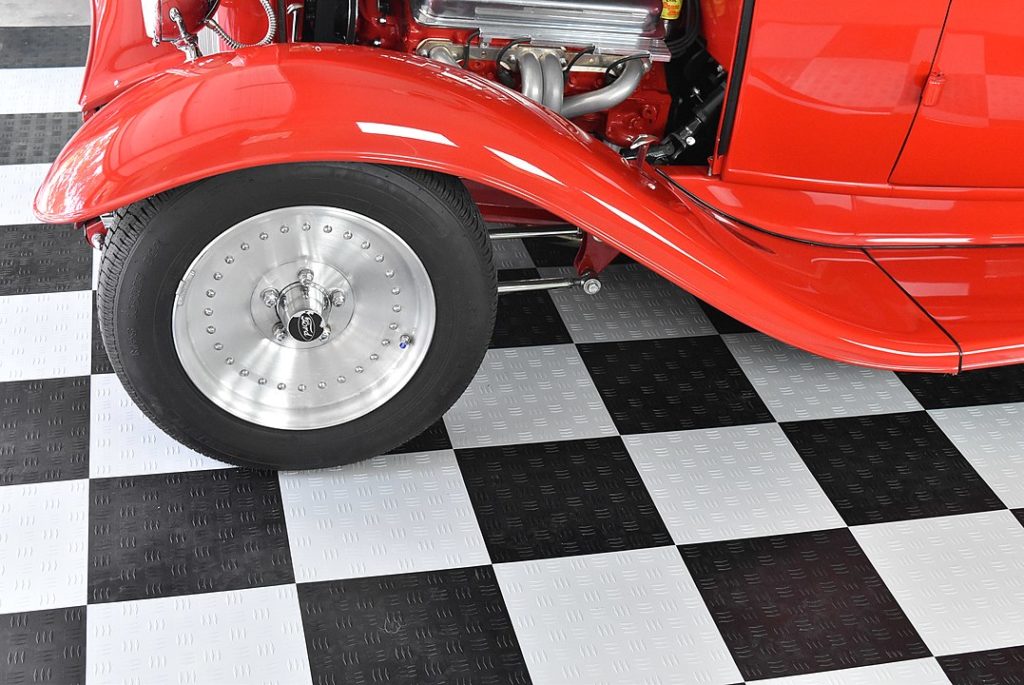 If you've decided that garage carpeting is not the best solution for your space after reading this article, you may still want an alternative to your concrete garage floor. If your main priority is to improve your garage's aesthetics, consider the following alternatives:
If you plan on walking around your garage in bare feet, and don't want to walk on cold concrete, consider:
While none of the above proposed alternative will provide the same level of insulation as carpeting, they may fit your needs depending on your primary use for the garage.
Image credits: Better Spaces Ltd / Carpetcourt / Greatmats – Own work