Garage floor tiles offer an easy opportunity to protect your concrete garage floor while simultaneously enhancing both the aesthetics and functionality of your garage space.
The best garage floor tiles are ones that have been deemed to be durable, affordable and also useful for protecting your garage's concrete surface. These tiles usually are connected via interlocking patterns, removing the need for any grout or tools.
Here you will find out which garage tile will best suit your needs. You will find that these tiles are shockingly easy to install. More importantly, they serve their purpose by making it easier to clean and take care of your garage surface. You would certainly like to keep your garage's cement flooring in good shape for as long as you can. These flooring options offer an excellent opportunity to do so.
What Is The Best Garage Floor Tile?
There is no singular answer to the question of which is the best garage floor tile. The answer to the question really depends upon what you are looking for. Garage floor tiles can be fit into two different groups: functional tiles and stylish tiles.
Functional tiles include the following types discussed here:
Rubber interlocking tiles
Polypropylene interlocking tiles
Roll out mats
Open rib tiles
Maximum traction tiles
Vented drain tiles
Stylish tile options include:
Vinyl Peel and Stick Tiles
Checkerboard Patterns
Porcelain/Ceramic Tiles
Rubber tiles are a great addition to any gym or home recording studio but vinyl tiles will suit a home auto showroom much better. Vented drain and maximum traction tiles will serve functional purposes that will certainly elevate the status of your garage as a workshop. Scroll down to see some of the highest rated options in the relevant categories.
What Are The Benefits To Using Garage Floor Tiles?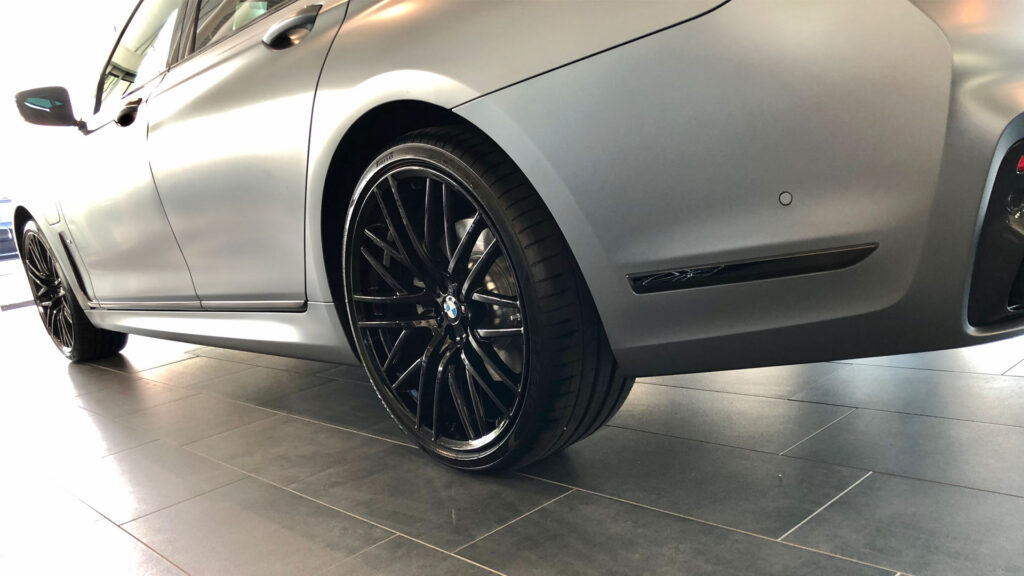 Floor tiles are a versatile finisher for garage floors. They come available in a wide array of materials and designs. Whether you're talking about a way to spice up the presentation in your sports car showroom or just simply looking to add padded flooring, you are sure to find a garage floor tile set that suits your plans.
The numerous benefits of installing garage floor tiles include:
Padded comfort for your workshop
Sound deadening
Ease of installation
Design aesthetics
Insulation
Extending the lifetime of your cement garage floor
Affordable as far as garage finishing options go
There are many different options for garage floor finishes. These options include epoxy, paints and other solutions. You are encouraged to use garage floor tiles as a diminishing touch. They are easy to install and they usually last pretty long as long as you get a tile that is made out of a durable material.
High-Impact Polymer Tiles Are The Most Durable Garage Floor Tiles
Garage floor tiles are not often seen as a long-term solution. Many feel that these flooring options do not last long or are prone to damage. Cold climates may be seen as particularly troublesome, due to the intrusion of road salt for at least part of the year.
Among the most durable of garage floor tiles is the Speedway Diamond Garage Floor 6 Lock Diamond Tile. These tiles are made out of heavy-duty polymer and interlock with each other so that they are less prone to shifting. Damage from ice and moisture should not be of major concern since these tiles are designed to allow air and water to flow beneath the flooring layer.
Installation is also a fast process. The tiles simply interlock like pieces of a jigsaw puzzle. Each package comes with tiles that are 1 foot by 1 foot in size. The only unfortunate aspect of this is that they do not adhere to the surface of the garage. You may consider this a positive though, as removal will always be easy.
Open Rib Tiles Allow For Maximum Air And Water Flow
One potential concern with floor tiles may be related to the time it will take for the layer to dry out. Some may worry that they will have to occasionally remove the tiles in order for them to dry out. Luckily this is not the case, as there are tiles that are specifically designed to handle lots of moisture and still dry out fast anyways.
The RaceDeck Free-Flow Interlocking Garage Floor Tiles come with an open-rip design rather than being one solid layer. This means that there will be less total surface area to dry out, even though you will still be able to enjoy the benefits of having a covering over your garage floor.
The open-rib design allows for maximal movement of water and air. If you drag a bunch of snow into your garage during wintertime, you will not have to worry about puddles in your garage anymore. The water will not stick to the surface, rather it will flow from the surface and out through the bottom of your garage.
Polypropylene Tiles Are A Recyclable Option
If you are looking for a sustainable flooring option for your garage flooring, look no further than garage floor tiles that are made out of polypropylene. These materials can be seen as a sustainable option for multiple reasons.
First of all, the garage tiles will protect your cement floor and lengthen the amount of time that will spend without having to replace your cement floor. This can be an environmentally- intensive process when you consider the equipment and power needed to produce concrete. Polypropylene tiles are also recyclable after they are eventually removed.
Research from Stanford University has shown that the production of polypropylene-based products used less carbon than the production of other similar materials. These materials will serve further uses once they have reached the end of their life as garage flooring and will not take up space underneath a landfill.
The GarageTrac Durable Interlocking Modular Garage Flooring Tile is made out of polypropylene. This flooring also comes in a wide array of color options as there are 12 different color options available. The tiles also
interlock together like many of the other options.
Interlocking Rubber Tiles For Your Home Gym
If you have dedicated all or part of your garage to be a workout space, then interlocking rubber tiles are sure to make your garage more cozy. These tiles will certainly be a more comfortable workout surface than the cold and hard concrete floor. Rubber flooring is also an essential part of any home recording studio.
The BalanceForm Puzzle Exercise Mat Interlocking Tiles will enhance your recording studio or workout space. The tiles are made out of a high-density EVA foam with non-slip surfaces on both sides. They should be pretty durable, but if you accidentally scrape one side of some of the tiles, you can simply turn them over and nothing will change.
Rubber floors have been shown to reduce vibrations in home recording studios and are highly recommended by the L.A. Film School. The thicker the rubber flooring in the studio, then the better the sound will be. The BalanceForm Exercise Tiles are ¾ inches thick and present themselves as an affordable addition to the garage recording studio.
These rubber tiles will also help to reduce vibrations from the sounds of your home gym. Your workout equipment will last longer, as it will no longer be under the threat of becoming damaged from being dropped on a concrete floor. Best of all, these tiles are both simple to install and remove. No tools will be needed during this process.
Rolling Floor Mats Are Easy To Install
The easiest type of garage floor tile to install is the roll-out floor style. Installation is pretty simple when all you have to do is roll the tile out onto the floor space. This is an excellent solution for making your workspace or personal gym more comfortable. Perhaps the only negative of this type of garage floor tile is that they do not naturally adhere to the floor.
The rubber-cal diamond plate flooring roll is outfitted with diamond patterned protrusions in order to maximize traction. This makes these garage floor rolls a popular option amongst those who have their own personal workout space in their garage. The rolls come in 4 foot wide sections of varying lengths.
Roll-out garage flooring is perhaps best used as a temporary solution. It will be an affordable option but it will be hard to keep in place in the long term without adding your own adhesive or using some other method to ensure that the material doesn't move around so often.
Peel And Stick Tiles Are More Likely To Stay In Place
If you are looking for a longer-term solution, then peel and stick tiles will likely satisfy your needs. These types of tiles have an adhesive on their underside that adheres directly to the cement garage floor. This kind of garage floor tile is often seen as more stylish than interlocking tiles which serve a more functional purpose.
As for ease of installation, these tiles will still be relatively easy to install but the process as a whole will require some degree of preparation. You need to make sure that your cement floor is clean and dry before you apply the tiles. Keep in mind the fact that it will be harder to reverse course if a mistake is made. Interlocking tiles are much easier to adjust when necessary.
The biggest plus of these types of tiles is that they are typically much more stylish than the interlocking tiles. The interlocking tiles have a "grid-like" appearance while peel and stick tiles glisten in the light. This feature makes the peel and stick tile a popular option among those looking to add more of a showroom feel to their garage.
The Achim Home Furnishings Nexus 12-Inch Vinyl Tile is a stock and peel tile that is made out of vinyl. This type of tile has traditionally been marketed as a flooring option for bathrooms, kitchens and other interior surfaces. However, this is also certainly a viable option for the garage as well.
The SF Gate notes that these types of tiles perform the best in warm and dry climates. Interlocking tiles are much more durable in cold and wet damage. The stick and peel articles do not have a tendency to respond very well to moisture. They may lose their ability to adhere to the cement floor.
Vented Drain Tiles Prevent Dirt Build-Up
Perhaps you are tired of dirt build-up on your garage floor. Vented drain flooring is specifically designed to help carry this debris out. Dirt and mud will be easy to remove, as you will be able to take a hose to the surface and watch as all the dirt travels to the bottom of your garage and out and away from the garage.
The IncStores Vented Grid-Loc Garage Flooring represents an opportunity to make garage floor clean-up much easier. These tiles are made out of impact-resistant plastic, so there is no need to worry about the lattice structure of the tiles being crushed underneath the weight of your vehicles.
The product listed above also comes available in ten different colors, so there will be plenty of chances to get creative with your design scheme. The options are pretty unique with colors like purple, yellow, red and blue among the mix.
Porcelain Tiles: A Beautiful Addition To A Concrete Floor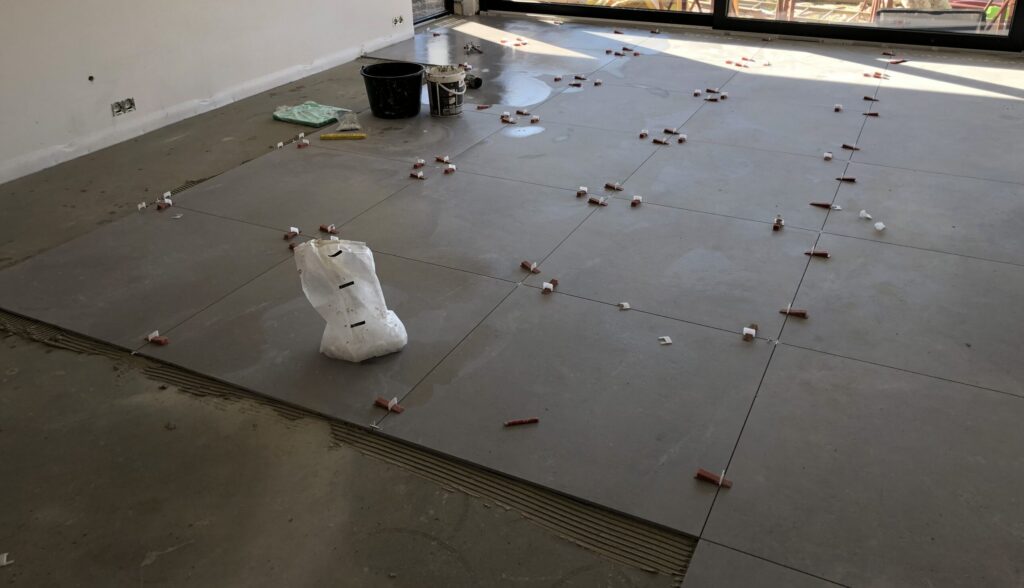 Switching gears up a little here, one alternative to vinyl, rubber or plastic tiling is to apply porcelain tiling to your cement garage floor. This material is a long-term installation while many of the other materials discussed here are short-term options. Thus, porcelain tiles are a much bigger commitment. Porcelain will also require more careful planning and the installation process itself will certainly be more time-consuming and difficult.
You certainly can lay porcelain tiles on top of cement. There are many benefits to having porcelain tiles in your garage, as is described here:
It resists stains better than concrete
Less susceptible to damage from road salt and chemicals
It can be cost effective
DIY installation is practical
The drawback to porcelain tiles is that they require much more time and effort to install. They are also slippery, meaning that they may not be practical as an option for a garage that is also commonly used as a work space.
The SomerTile Albe Floor And Wall Tile will provide you with a natural stone look in your garage. The P.E.I Rating V is built for both residential and high-traffic commercial use. These tiles are also considered to be marginally skid-resistant.
You will have to take extra care to prepare the cement floor for the porcelain tile:
The floor must be cleaned and rigid, floors will have to be even
An installation plan must be determined
Plastic spacers will help ensure that you are setting straight grout lines
Coin Pattern Tiles Allow Extra Traction
There are a few different patterns that are used in garage floor tiles to enhance the amount of traction on otherwise slippery surfaces. These are an alternative to the open-rib patterns and diamond patterns that are commonly seen in garage floor tiles.
One of the most popular options with the coin pattern is the IncStores Coin Nitro Garage Tile. This tile comes available in a wide array of color options. There are 6 different color options for this specific model of garage flooring tile, just in the coin pattern alone.
Complement Your Sports Car With A Checkerboard Scheme
You can transform your garage into a showroom for your prized auto collection at little cost by adding a checkerboard design scheme to your garage floor. This nice added touch will complement your sports car nicely.
One of the most popular options as far as checkerboard garage floor schemes go are these self adhesive black and white vinyl flooring tiles. Vinyl flooring is a realistic option for garage flooring. This will be the case as long as you are located in a warm and relatively dry climate. According to SF Gate, classic vinyl flooring does not hold up well in cold and wet climates.
The benefit of vinyl tiles are mostly tied up in how neat the design scheme is. If you are in a cold and wet climate, you are encouraged to keep your car inside and your garage closed as much as possible if it is cold and wet outside.
You can always make a checkerboard pattern with more durable tile materials too. The RaceDeck Free-Flow Interlocking Garage Floor Tiles come in three different color options: alloy, black and graphite. The only difference is that these tiles will not pop with the same shine as the vinyl floor tiles. It will certainly be a more durable option though.