Your garage door can be an asset to your home's look or a major hindrance. A cracking paint job or unsightly color is going to make your house look dingy and unwelcoming, no matter how nice you've made the interior of your garage. Thankfully, painting a garage door is a simple DIY job, as long as you pick the right paint.
The best kind of paint to use on a garage door is an exterior latex paint from a paint brand that makes quality paint. This is true for vinyl garage doors and wooden garage doors. For metal garage doors, the best paint is oil-based exterior paint, but exterior latex paint will still work.
There is a little more that goes into picking the perfect paint for your garage door than this, however. The type of paint that is already on the door matters. And what about primer? What about painting the inside? We've got everything you need to know about picking the best paint for the inside and outside of your garage door.
How to Pick the Best Type of Paint for a Garage Door
For the most part, you can't go wrong by using an exterior latex paint of good quality, as long as the garage door is properly prepared for the painting process. All door types do well with exterior latex paint, but metal doors tend to hold up better with an oil-based paint.
But what is the difference between these types of paint, and why does it matter? Before we get started on picking paint for your door, we're going to briefly go over the differences between the different types of paint.
What is the Difference Between Exterior and Interior Paint?
The one type of paint you definitely don't want to be using on your garage door (on the outside at least), is interior paint. Although interior and exterior paint may include the same types of ingredients like pigment and solvent, these ingredients are formulated to withstand outdoor conditions.
If you use interior paint on your garage door, it will fade faster and may crack or peel even though it will look about the same directly after drying. So definitely go with exterior paint!
What is the Difference Between Latex Paint and Oil-Based Paint?
The paint at a home improvement store can be broken into two general categories: latex and oil-based. Latex paint isn't necessarily latex, but it is the name given to most water-based paints. The terms are used interchangeably, even though it is somewhat inaccurate.
The main difference between latex and oil-based paint is the type of liquid used to make them the right consistency.
Oil-based paints use a synthetic oil called alkyd or a natural oil like linseed oil. Water-based paints use water. This may not sound like a huge difference, but it is! Water-based are becoming increasingly popular because they:
Don't create as much odor
Create fewer harmful fumes
Have more elasticity, which means it doesn't crack with changes in temperature
For indoor painting, you won't need as much ventilation, and for outdoor painting, the paint will crack less. In most cases, latex paint is the way to go.
What is the Garage Door Made Out of?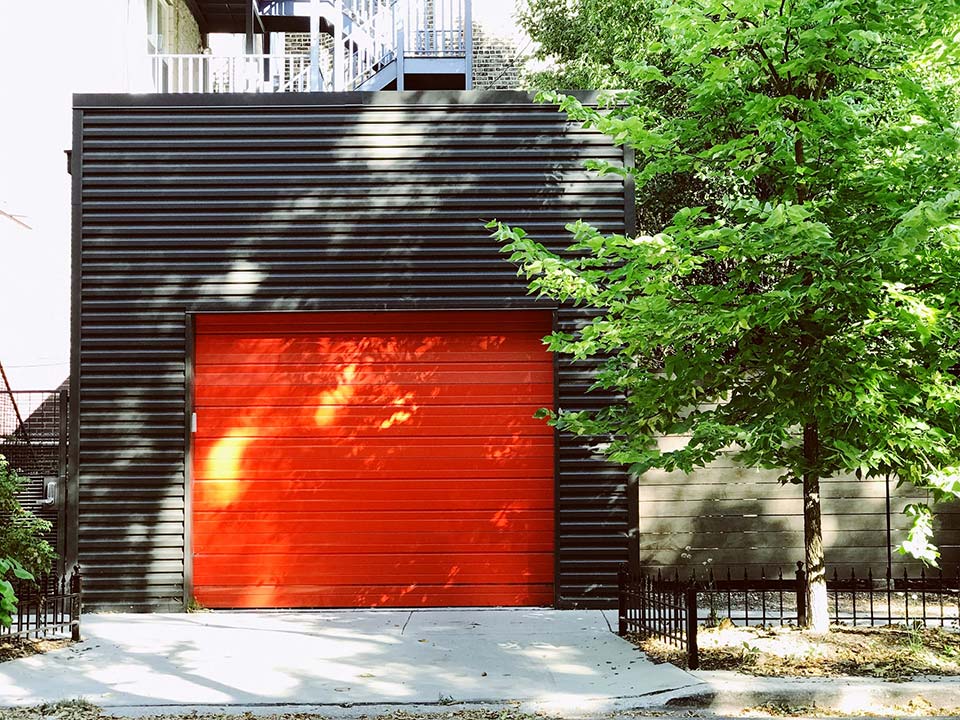 The first thing you'll need to do is figure out what your garage door is made out of. Garage doors are usually made out of one or two of these materials:
Vinyl/Composite/Fiberglass: The best paint for composite and vinyl materials is exterior latex. Oil-based paint will not adhere as well and may crack over time.
Wood: Wood requires exterior latex paint. Oil-based paint will crack and peel over time. If painting bare wood, you will need to use a stain-blocking primer if you plan to paint your garage door a light color. If painting stained wood, TSP will be required to prep the door for primer and paint.
Metal (steel and aluminum): Oil-based paint works better at protecting metal against rust than latex paint (which is water-based).
Glass: Painting glass is not advisable as paint does not readily adhere to glass. You can use window films to garage windows. Glass garage doors usually have metal framing, which can be painted as long as you're ready for the job of taping off the glass.
The easiest and most accurate way to figure out what your garage door is made out of is to use the identifying information on one of the stickers on the door. There may be one on an inside panel or along the edge of the panel that runs through the rails.
What Kind of Paint is Already on the Door?
Up until now, things have been pretty straightforward. Exterior latex paint unless the door is metal. However, the type of paint your painting over matters! Here are the guidelines you should follow:
Do not paint with an oil-based paint over latex paint. This will cause peeling and chipping.
You can use latex paint over oil-based paint, but it requires more prep, primer, and multiple coats. This is essential if your garage door is wood or vinyl. You don't want to spend all this time painting your door just to end up with chipped paint again!
On metal, use oil-based paint if it is already painted with oil-based paint. This is a no brainer. Oil-based paint protects metal better than latex, and painting latex over oil requires more prep.
Don't forget to check your trim. If you're painting the door, you probably want to paint the trim as well. Make sure you check to see what kind of paint is used on the trim. It may be different from the door itself!
How to Tell What Kind of Paint was Used on a Garage Door
You probably think these tips are all well and good, but how do you know what kind of paint the previous homeowner or builder used to paint the garage door. There is a simple test.
Prepare a small bucket or bowl with a mixture of water and dish soap. Soak a rag in this bucket and wring it out.
Using the damp rag, clean a small part of the door that is in an inconspicuous location.
Allow to dry or dry with a paper towel or a rag.
Dip a paper towel or q-tip in denaturated alcohol or nail polish remover.
Rub it along the clean patch on the door.
If the paint comes off, latex paint was used. If the paint doesn't come off, oil-based paint was used.
This test is super simple, and since you're going to be painting your door anyway if you rub a little paint off, it isn't really a big deal.
Picking the Best Paint for a Garage Door: The Chart
| If your garage door is… | Latex Paint (water-based) | Oil-Based Paint |
| --- | --- | --- |
| | | |
| Vinyl/composite/fiberglass | Should use | Should NOT use, may cause cracking and peeling |
| Metal with oil-based paint or bare | Can use, but not the best | Should use |
| Metal with latex paint | Should use | Can use, but must remove latex paint first |
| Wood with oil-based paint | Should use, but must take extra care with prepping the door and use a primer | Should NOT use, may cause cracking and peeling |
| Wood with latex paint | Should use | Should NOT use, will not adhere properly |
| Wood with stain | Should use, but must take extra care with prepping the door and use a primer | Should NOT use, may cause cracking and peeling |
| Wood with no previous treatment | Should use, but must take extra care with prepping the door and use a primer | Should NOT use, may cause cracking and peeling |
Which Brands Make the Best Exterior Paint for Garage Doors?
Because the garage door has a huge impact on the look of your home, this is not the time to cut corners or go with the cheapest paint on the shelf. You want a good quality paint that will last so that you don't have to do this particular task for several years.
Here are some quality exterior paints that should look good for 7-10 years after you complete the work:
You'll notice that you can't just choose based on brand. Every paint brand offers different levels of quality. If you pick the premium or highest quality paint of any brand, it is going to be better than the lowest quality paint of another brand. For example, high-quality Glidden is going to better than a low-quality Sherwin-Williams, even if Sherwin-Williams is generally considered a better brand.
Picking the Best Paint Color for a Garage Door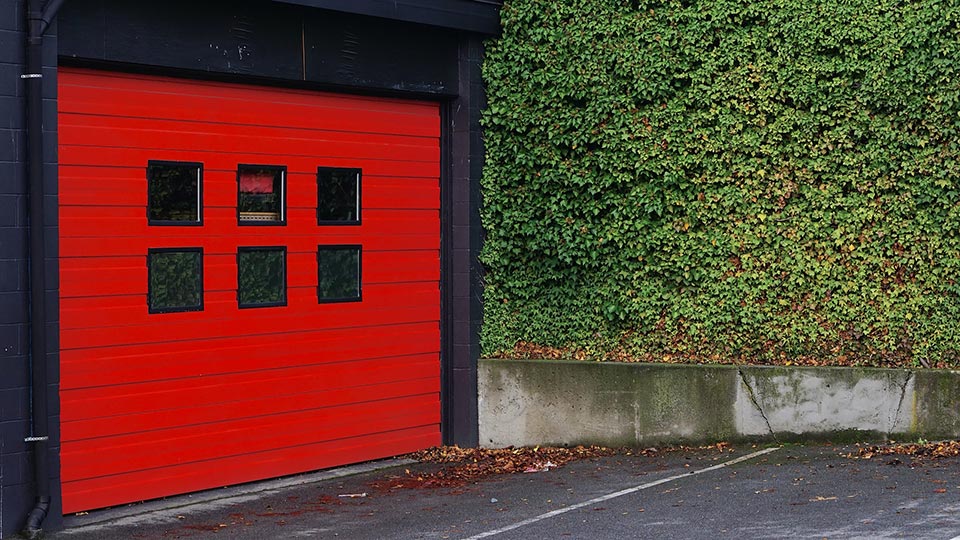 Picking the paint color is the hardest part of painting your garage door. Here are our thoughts on some common options:
White: You can't really go wrong with white. Most garage doors are white. This look goes especially well if you have other trim on your home that is white.
Light neutral tones: Think of whites, tans, and grays. These are also fairly safe, depending on the color of the rest of your home.
Darks: Dark garage doors make a bolder statement, but they are a little riskier and more difficult to paint over with a lighter color in the future. If your garage door is attractive, then a dark color can make it a highlight.
Reds, blues, and greens: When using these colors, you'll probably want to do for a dark muted version of them. Like darks, these are bolder choices.
Go for contrast: The one thing that we really don't like the look of is a garage door that is too close to the color of the house. If the siding of a house is light blue, the garage might be white, a very light off-white, a very dark blue, or a dark neutral.
Consider the accent colors and materials of your home: if the trim around your windows, your door, your front porch, and your garage are all different colors, you won't achieve a cohesive little.
What Color Should the Trim Be?
Garages usually have trim around them, and there are a couple of different things you can do with the trim. We recommend buying some sample-sized paints and trying them out to see which fits better.
Paint the trim the same color as the house.
Paint the trim the same color as the door.
Paint the trim a lighter or darker color than the door.
Paint the trim the same color as other trim on the home.
The last option is the one we most commonly see, but plenty of people go for the other options and have great results.
Can You Paint the Inside of a Garage Door?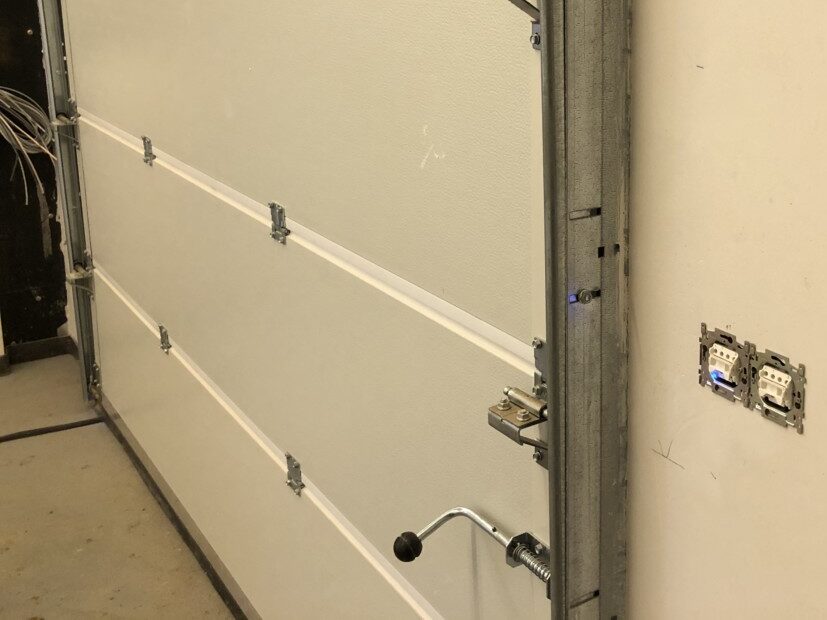 You can and should paint the inside of a garage door! Whether you use your garage for your home gym, workshop, a place to hang out, vintage car, or heck, your everyday ride, putting a fresh coat of paint on the inside of your garage door will instantly add to the atmosphere in your garage.
Although the inside of your garage door is technically on the interior of your home, we still recommend using an exterior paint if possible because (most of the time), it is still exposed to extremes in temperatures, moisture, and wear and tear.
If you rarely open your garage door and have a climate-controlled garage, you might be able to get away with using interior paint.
Best Colors for the Interior of a Garage Door
The color for the interior of the garage door that you pick is really going to depend on your personal style and what you use your garage for.
Same color as the walls. If you want the garage door to feel like a wall, then you should make it match the walls. You can draw attention away from the door by adding an accent wall somewhere else in the garage.
A contrasting color to the walls. If you want to highlight that this is a garage, then you could paint it a different color from the other walls to draw attention to it.
Something light. Remember, garages tend to be dark, so using a lighter color paint can help brighten up the place.
Something cheerful – or team-spirited. Get creative if you want! If your garage is where you watch football with your buddies, then you could paint the door in a team color or green and white like a football field. It's your space, so choose to do something that speaks to you!
How Much Paint Do You Need for a Garage Door?
Most of the time, a single gallon of paint is enough to paint a garage door on a 1-2 car garage with some leftover. However, this depends on how many coats you need, which depends on several other factors. You may need more than one gallon of paint if:
You've used a primer. If you needed to use a primer, then you might only need one coat of paint.
You're painting a surface that has never been painted before. Even with a primer, bare wood may need a second coat of paint.
You're painting a lighter color over a darker color. You'll definitely need at least two coats in this situation, and you might need even more. We recommend priming first.
Your garage door is oversized. It only makes sense that wider or taller a garage door is, the more paint you'll need.
You have to paint over a lot of imperfections. Even if you've tried to sand down imperfections in the door, you might need more paint to smooth those out when it comes time to paint. In this case, it is best to use a primer and probably two coats of paint.
If you aren't far from a home improvement store, then you can get a gallon of paint to get the job done. If you have some leftover, that's great because you might need to touch up later. If you need more, you can always run out.
But if getting to the home improvement store is a challenge, it might be worth getting two gallons of paint so that you don't have to make another trip out.
Can You Spray Paint a Garage Door?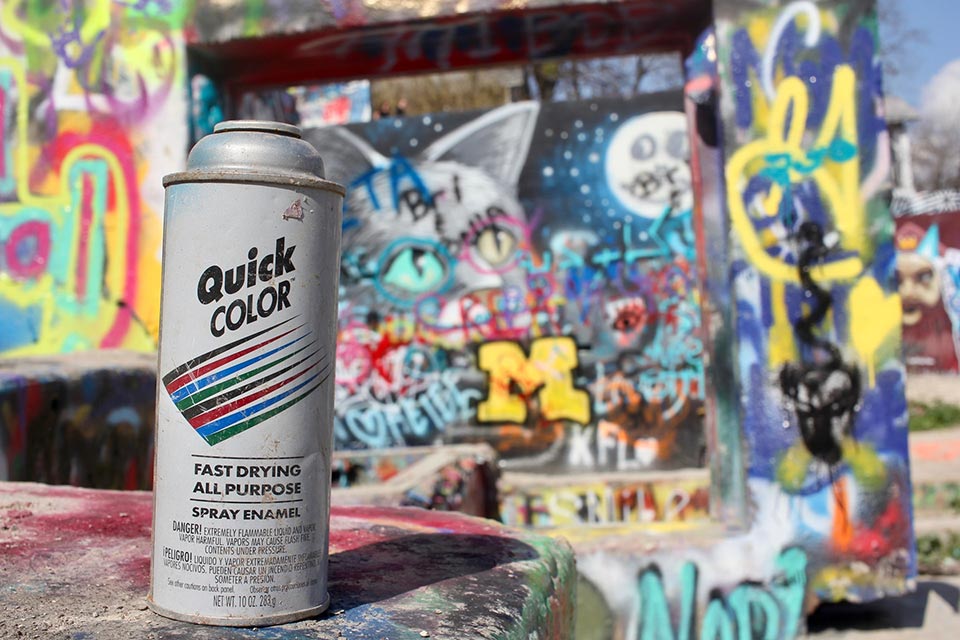 You might think that spray paint will be an easy way to get your garage door painted, but honestly, it isn't the best idea. Here's why:
It will take a lot of spray paint, and you'll spend way more than you need to.
It is really hard to get a nice even coat of spray paint.
Spray paint is typically oil-based, making it a poor choice for such a large and important application.
Spray paint creates a lot of fumes. If you plan on hanging out in your garage, you'll experience lingering and noticeably odors.
If you want to make the job easier, consider learning to use a paint sprayer. When used properly, paint sprayers create the best finished product in the least amount of time.
The Best Paint for Garage Doors
Interior or exterior, the best paint for a garage door is almost always a premium-quality exterior latex paint. If your garage door is metal, oil-based paint will hold up a bit better, but latex paint is just fine.
When painting inside your garage door, you can choose to use interior paint if your garage is climate-controlled.
It's as simple as that! Now all you have to do is pick a color!