Woodworking in the garage can be a worthwhile hobby even if it's just done for leisure, but it's also a hobby that has the advantage of being able to provide the person practicing it with monetary rewards if they're willing to sell their work.
Any woodworker can make money woodworking in their garage by completing a wide array of either simple or advanced woodworking projects and selling them. Woodwork can be successfully sold either locally or online. Woodwork is especially popular to sell at craft and holiday fairs and can be made more valuable by woodburning designs or monograms.
Woodworking can be an expensive hobby, so it takes some planning to do it in a way where you can turn a profit. Keep reading to learn more about how you can make your woodworking hobby a profitable side business out of your garage.
Tools You Need to Get Started Woodworking in Your Garage
Before you can get started making money woodworking in the garage, you need to have the proper tools. You don't need a ton of different tools to get started woodworking, but there are a few fundamental tools that you'll need for basic projects.
Here are a few of the woodworking tools that you'll want to invest in for woodworking in your garage:
Circular saw: A circular saw is one of the most basic saws you'll need for a functioning workshop, and since it is used for so many different projects, it's worth investing in a high-quality machine. Be sure to choose a circular saw from a manufacturer with a good reputation for reliability, even if it means a slightly higher price.
Jig Saw: Jigsaws are used to cut curves and complicated shapes in woodwork and can come with a variety of different blades designed to achieve different patterns. Jigsaws are versatile tools and can be used for many different woodworking projects. (Source: Home Depot) You'll need one for any woodworking project that doesn't involve straight or angled lines.
Power drill: Like investing in a high-quality circular saw, you'll want to get a nice power drill if you plan on using your garage to actually make money on your woodworking projects. Since you'll be using the drill a lot more than the average homeowner, you'll be putting it under heavy load. Make sure you get a tough drill with a lot of torque that can handle the abuse.
Orbital sander: Many woodworking projects require a polished finish, and the best way to achieve this is by using an orbital sander. Sandpaper can also be used to sand projects by hand, but this is a much more tedious process than using an electric sander.
Woodburning tool: This is an optional tool for your woodworking garage, but learning how to use a woodburning torch to monogram your projects or add decorative pyrography can help add aesthetic beauty and value to your final results. The more intricate your work is, the more money you can sell it for.
Once you have these basic woodworking tools, you should be all set up to get started making money woodworking in the garage.
The Costs of Woodworking in Your Garage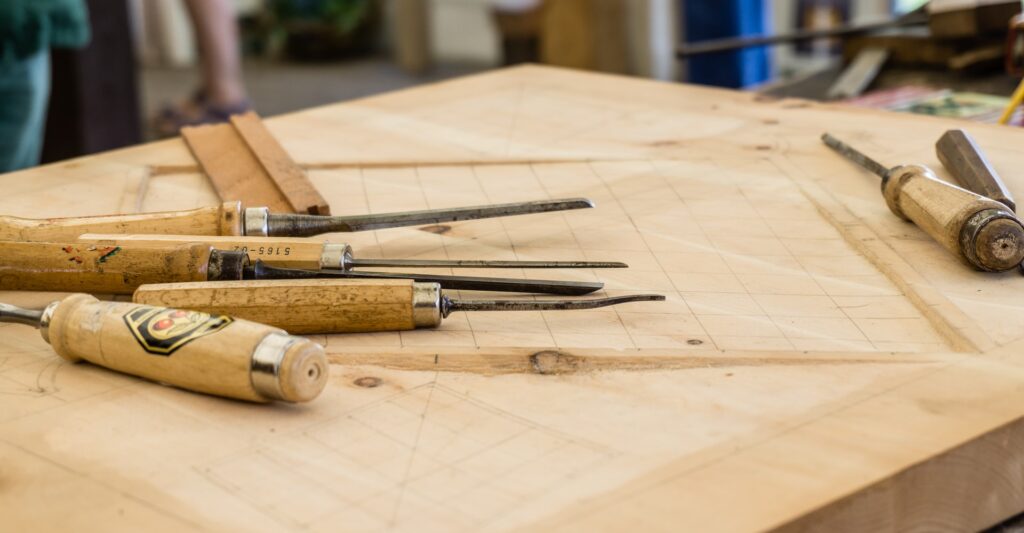 The major challenge in trying to turn a profit woodworking in the garage is that woodworking can be an expensive hobby. More exotic types of wood that are prized by woodwork collectors can be pricey to work with and difficult to work with, increasing the chances of a mistake that requires fixing. It might even require scrapping the project and starting over.
Major Expenses
Tools: While many tools are a one-time investment, they sometimes require repair and often require replacement components, such as new saw blades. This means that depending on the quality of the tools you buy, you may have to buy more replacement parts. A cheap saw might seem like a good idea until it starts throwing blades, and then it becomes an expensive buy.
Materials: The wood you use in woodworking projects can vary in price, but raw lumber is only suitable for the roughest of projects. That means that for more sophisticated woodworking projects that have a better chance of selling, you'll have to invest in a slightly more expensive and higher quality softwood to work with.
Electricity: Unless you're using a hand saw, you're going to see a spike in your utilities if you use your garage to run your electric saws a lot for woodworking projects. The electrical cost of woodworking is kind of hard to work around, so it has to be factored into pricing your woodworking projects to offset the costs.
Vendor fees: Whether you sell your woodworking projects online or sell them locally, you're likely to run into fees involved. This can either be a rental fee for the stall you use to sell woodwork at a craft fair, or commission fees through an online market. Like electrical costs, vendor fees should be factored into the final price of your woodworking projects.
While it's a good idea to try and source cheap (but good quality) materials whenever the opportunity presents itself, the main reason that woodworkers have a hard time turning a profit woodworking is that they underestimate the operating costs of their workshop.
These costs must be passed on to your customers to some degree in the final price so that you don't end up eating these costs yourself. Otherwise, your woodworking hobby may not make enough money to make it worth the time and energy.
What Wood to Use in Your Woodworking Projects to Profit
The type of wood you decide to use in your woodworking projects can have a serious effect on how much money you're able to make off of them. While rough lumber is cheap and a good idea for practicing on when you're still learning your chops as a woodworker, you'll need to look at a higher-grade surfaced lumber for most woodwork.
Regular 2x4s can be used for some simple woodworking projects that are easy to sell if executed well, such as picnic tables. Even though the base wood is relatively cheap, often, these projects can be stained or varnished for a more polished result that can command a higher price.
How to Price Woodworking Projects for Sale
Pricing woodwork can be difficult for many novice woodworkers, especially if they've never run a business or tried to sell their own artisan crafts before. As a result, many novices may charge a lot less money for their finished woodworking projects than the amount of time and effort they put into them deserves.
The first thing you should determine when you are learning how to sell woodwork out of your garage for profit is how much you want to pay yourself in labor. The biggest mistake many woodworkers make is failing to pay themselves for the time they spend at the craft.
In fact, it's a good idea to keep track of how many hours you work on each project. Whatever rate you decide to set your labor at, you need to multiply it by the number of hours you put into your project.
The next factor to look at when you're trying to figure up prices for woodwork is the price of materials, vendor fees, and utilities. Whatever the cost of the materials was for the materials in the woodworking project goes into the base price of the resulting project. As for utilities and vendor fees, a small amount should be added to the cost of each project to help offset these operating costs.
Once you have added your labor rate with the cost of materials, you'll have a base price for your woodworking projects that allows you to make a small profit on them. As you become more experienced and your woodworking projects become more intricate, you can begin to set your prices higher to reflect the extra time and energy you're putting into them.
Remember these tips when pricing your woodworking projects for sale:
Don't forget to factor in your labor costs! Even if you're a novice woodworker, your time is still worth money. There are other things you could be doing other than woodworking, and if you underprice yourself, you also undercut the prices of other artisans as well.
Don't overprice your work, especially if your skill level is still low. This is as important as not underpricing your work. Selling your work too high can hurt your reputation in the local markets, and you'll end up sitting on a bunch of pieces you can't sell.
If you use the simple formula of adding up your labor costs and your materials costs with a small amount added for pure profit, you should end up at a price that people will find reasonable.
How to Sell Woodworking Projects Locally
One way that you can make money woodworking in your garage is to sell your woodworking projects locally. This can be done through a variety of locations:
Thrift stores, antique stores, and flea markets: Many thrift stores and flea markets are good hunting grounds for woodworkers to set up vendor stalls.
Artisan and craft shows: Artisan and craft shows are a good place to get your work in specialty markets alongside other woodworkers. Artisan and craft shows are especially good for selling more advanced forms of woodwork or wood sculpture that may be more difficult to sell in other local venues.
Holiday fairs: Many woodworking projects are perfect holiday heirlooms and decorations, and these projects sell like hotcakes at holiday fairs. Woodworkers can also take advantage of the holidays to sell monogrammed projects since these projects sell well as holiday gifts.
While you are practicing your first woodworking projects and getting the hang of more refined designs, it's a good idea to start getting your ear to the ground about some potential local venues. That way, once you have several samples prepared as well as some items for sale, you'll already have an idea of where you might be able to start selling locally.
How to Sell Woodworking Projects Online
Another option for making money woodworking out of your garage is to sell your finished products online. There are many advantages to selling woodwork this way, including some of the following:
Set up your own marketplace. Setting up shop online with your woodwork lets you set up a curated collection of your pieces that you can display to show the widest range of your work, even work that isn't easy to transport back and forth to local venues.
Show your work in its best light. With online markets, it's easy to get really high-quality photographs of your work that show them off the best way possible, and vivid item descriptions can also help you sell your work.
Online sales are good for introverts. Many artisans—including woodworkers—are more artistic and introverted in nature, which means they might not necessarily be that comfortable selling their work face-to-face at an art fair. In contrast, selling things online is a simple process, and everything is handled digitally.
No haggling. With some exceptions, online sales take out a lot of the haggling in selling handmade crafts, which can be rampant at flea markets and craft shows. For woodworkers who hate to haggle, online sales are a much better option for getting the price you asked for without having to argue about it.
For many people, websites like Etsy and eBay are becoming more and more tempting as options to sell their hobby woodworking projects. Each online market has different rules for selling and buying, so be sure to read the FAQs at each website carefully during the vendor application process.
Woodworking Project Ideas to Sell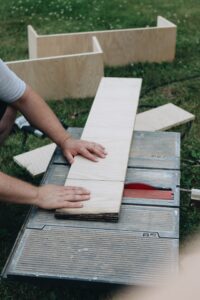 If you want to make money woodworking in your garage, you should stick to woodworking projects that are relatively easy to make, sell well, can be made of simple materials, and are easy to complicate with advanced designs in order to increase their value.
Here are a few ideas for simple woodworking projects that sell well:
Picnic tables
Planters
Wine racks
Bowls, spoons, and other culinary utensils
Cutting boards and knife blocks
Dog houses
Custom terrariums or rabbit hutches
Simple furniture like tables and benches
Picture frames
Fruit bowls
Shelves
Shadowboxes
Coffee racks
Birdhouses
The benefits of many of these projects are that they can be replicated quite easily, and they can also be easily customized to add value.
Advanced Woodworking Projects to Sell
Once you've gotten better at your woodworking and you're more experienced, you can branch out into more advanced woodworking projects to sell that can be sold for higher prices. Here are a few examples of more advanced woodworking projects you could sell:
Sculptures
Wooden inlay work or marquetry (Source: First Dibs)
Pyrography or monogrammed work
While these types of advanced woodworking projects may require more advanced tools to add to your workshop, these tools can be acquired gradually as you gain more experience in your hobby. After you develop a certain level of skill and begin to take on harder projects, you can both charge more for your materials and increase your labor rate as well.
Tips for Making Money Woodworking in Your Garage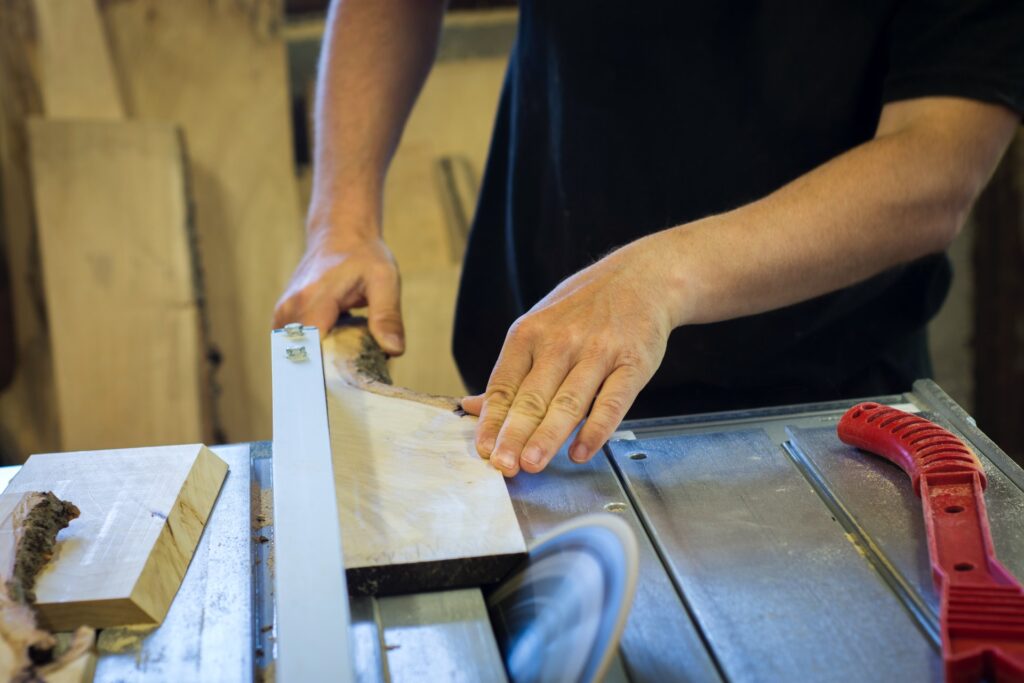 It can take a while to start making money when you do woodwork out of your garage, but that's no reason to get discouraged. Here are a few quick tips for when you're first getting started out as a hobby woodworker for profit:
Choose projects that you love. Don't decide you're going to build dog houses for sale just because you think they'll sell well if you don't care anything about dogs or dog houses. You'll burn out halfway through your third house. Instead, choose woodworking projects that you enjoy and that you don't mind repeating. These are the projects that will form the bread and butter of your woodworking shop.
Be sure to work up some samples. Even if you can't bring your entire collection of woodwork to an art show or trade fair to sell, you can still bring representative samples and photographs of your entire inventory to sell pieces that are too unwieldy to transport to the vendor stalls. This includes woodworking projects such as porch swings, picnic tables, and other furniture.
Build up slowly. Don't expect to earn a complete living doing woodworking out of your garage, or even breaking even at first. It takes a while to figure out where you can successfully sell your projects and what projects you make sell well. Be sure to enjoy the journey along the way as you become a more experienced artisan and woodworker, rather than focusing on profit alone.
Remember, at the end of the day that you're wanting to start selling your woodworking projects so that you can profit from a hobby that you love. If selling your work sucks all of the joy out of your hobby, it isn't worth the trade-off.
Woodworking Out of Your Garage Can Be Profitable
Depending on what projects you decide to sell, how talented you are, and what the local markets look like, a woodworker can easily profit from projects that they build-out of their garage. While it might take years to achieve a level of mastery that allows you to make a full-time living from woodworking, the garage is a great place to start for anyone who is looking to make some extra money off of a leisure activity they already enjoy.