If you have a garage, then at some point, you're probably going to want to drill a hole in it so that you can add storage options, run wires and cables, or even hang décor, but you're probably wondering if this is wise.

So, can you drill a hole through the garage wall? Yes, you can drill a hole through a garage wall as long as you do it the right way. To ensure you do an excellent job, be sure to follow these steps:
Ascertain structural integrity
Check the walls carefully
Gather the necessary tools
Be keen on general safety
Sharpen your drilling technique
Read on to find out how to drill a hole through a garage wall the right way.
Tips for Drilling a Hole Through the Garage Wall
Keep the following tips in mind before drilling through your garage hole.
1. Ascertain Structural Integrity
Before making any hole, ensure the wall passes the integrity test. Inspect the wall for any cracks or suspicious-looking openings. The wall should be straight rather than leaning to one side.

Remember that a warped ceiling and a door that no longer closes appropriately can also be signs of structural damage, according to "Top 10 Signs of Structural Damage to Houses."

Only drill through a wall that you are sure won't crack or become damaged by a hole. It is worth noting that if your wall can't withstand a few holes from a drill bit, it is probably time to renovate your garage!
2. Inspect the Wall First
Before attempting any drilling work, make sure you use an inspection device to determine what lies beneath the wall. Remember that some walls have electric wires passing through. Some feature plumbing work. Drilling through such walls can end up causing problems.

An inspection device such as a stud finder, cable detector, and pipe detector helps you determine precisely where wires and pipes go through. That makes it easier for you to create clean holes without interfering with existing wires or pipes.
3. Use the Right Drill Bit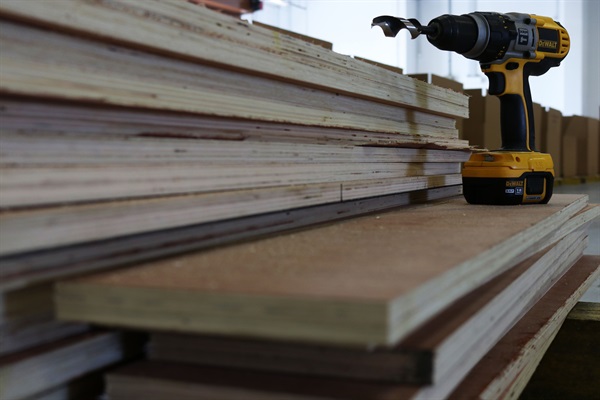 The type of material used to construct your garage wall should determine the kind of bit you use when drilling through the wall. A drill bit meant for use on wood should not be used to drill through a concrete wall because the bit would end up getting ruined.

The opposite is also true. You should not use a concrete drill bit to drill through wood or drywall because you can cause unnecessary damage. Some examples of different drill bits include the flat wood bit, tile bit, masonry bit and twist bits.
4. Mark Holes Accurately and Clearly
Before you start drilling into your garage wall, make sure you take measurements twice and mark the locations where you are going to drill. This ensures that you get the right measurements, and you do not ruin your walls.

Mark the walls with a noticeable mark to be sure you do not lose your bearing as you drill through different parts of the wall. If you make your marks too faint, they may end up becoming covered with dirt, or you may mistake a bit of dirt for one of your pencil marks. If you measure correctly, the mark will be removed by the drill hole, so you don't need to worry about leftover marks.
5. Make Pilot Holes
Before drilling large holes through the garage wall, start by making pilot holes. These are smaller holes that act as a guide for you when making the larger holes.

Pilot holes are usually situated at the center and make it easier for you to maintain accurate bearings when drilling larger holes through the wall. Pilot holes act as your compass when drilling through walls that may seem too large for you to drill accurately.
6. Fasten the Chuck
Be sure to tighten the chuck, which is the specialized clamp that holds the rotating tool. A loose chuck can quickly spin out of control or fall out of the drill. It is almost impossible to drill a proper hole when the chuck is spinning out of control.

Some chucks can be tightened using your bare hands, while others require you to use a key. Regardless of the type of chuck on your drill, make sure you fasten it to get a tight grip. However, do not make it too tight as that may also cause drilling problems.
7. Take Note of Depth
While drilling, you need to know the depth of the hole you are making. Some drills have a feature that shows the depth you have already made. However, there are also those drills that do not have this feature. Wrapping tape around the drill bit at a particular point is a good way to know how deep you have drilled.
How to Make Drilling Easier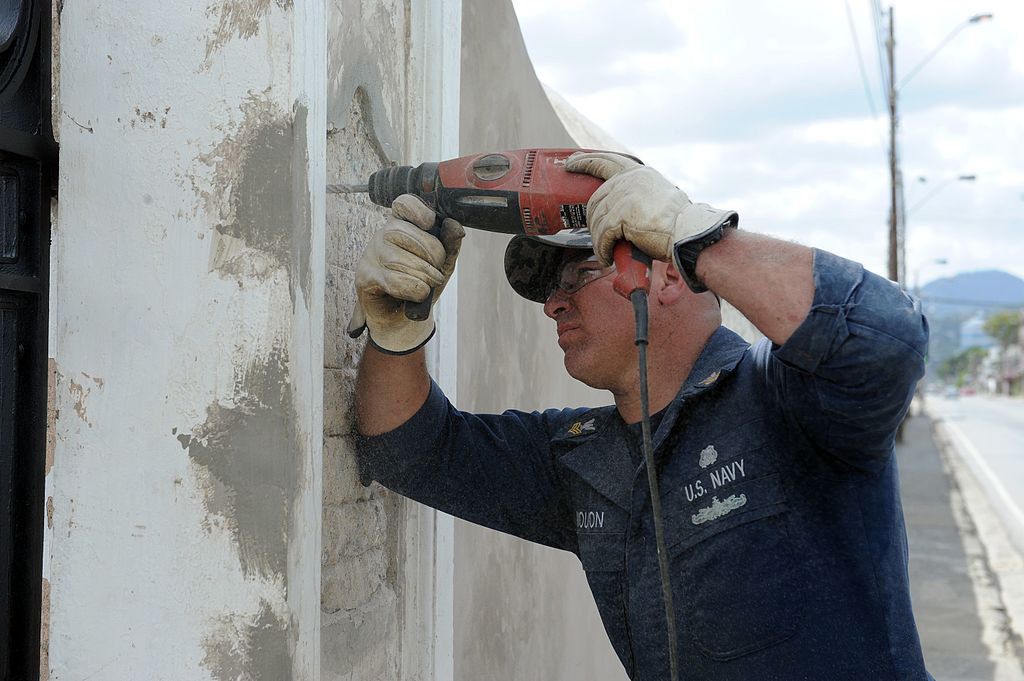 Keep the following details in mind if you want to make your drilling job less tedious and more impressive.
Practice Before Drilling
While drilling may seem like a relatively easy task, the truth is that it can get a bit complicated for an unsteady hand.
If you've never used a drill before, you might be surprised by the strong vibrations it puts off or the power of the drill's torque. Being inexperienced with these things can easily cause you to drill a crooked hole. Practicing your drilling technique helps you get a steady grip that prevents making holes that may not be accurate or straight.
Gather the Necessary Tools
It is prudent to collect all the necessary tools you will need for the job. This will help you avoid having to stop in the middle of the drilling job just to rush out and bring something else. Some of the things you should have in your toolbox include a hammer, different drill bits, markers, tape, cutting, and measuring tools.
Safety is Key
Many unexpected things may happen when you are drilling a hole through your garage wall. That is why you must adhere to all safety rules.

Make sure you are wearing goggles to protect your eyes from the debris that is likely to be produced.
Wear gloves that have proper lamination. That will prevent your hands from getting sweaty while giving you a firm grip on the drill.
Wear a helmet to protect your head from falling objects that may result from the vibration effect of the drill.
Keep all nails and tools in a secure box to prevent tripping over items.
Do not allow children or pets to play nearby while you are drilling in your garage.
Take a Break
If you are getting tired, don't strain yourself with the work. Drilling while you are tired can result in poor quality work. Taking five or ten-minute breaks between drilling sessions is an excellent way to replenish your energy levels and ensure better focus, resulting in better quality work.
In Conclusion
Drilling through the garage wall is a relatively easy task. All you need to have is your safety gear and the correct type of drill and drill bits. Practicing your drilling technique is also key to ensuring success when you start the drilling process.

Before you start drilling through the garage wall, make sure you have enough time to spare. Do not rush through the process because minor errors can turn out to be quite expensive. Otherwise, the drilling process itself should be relatively easy and fun.