If you are thinking of re-selling your home in the future, consider making some upgrades that will increase the value of your property. Some updates will not cost you a fortune but have the potential to increase the value of your property significantly.
Does painting the garage floor add value? Yes, it does; it will not only add to the beauty of your garage and your home, but it will also increase the value of your home. Painting the garage floor improves the appearance of your property, makes it resilient to spills and tire marks, and hides flaws such as holes and scratches.
Painting your garage floor can be an exciting remodeling project. However, it is essential to understand how to paint the garage floor, the type of paint to use, and what to consider when buying paint for your garage floor.
How Painting the Garage Floor Increases the Value of Your Home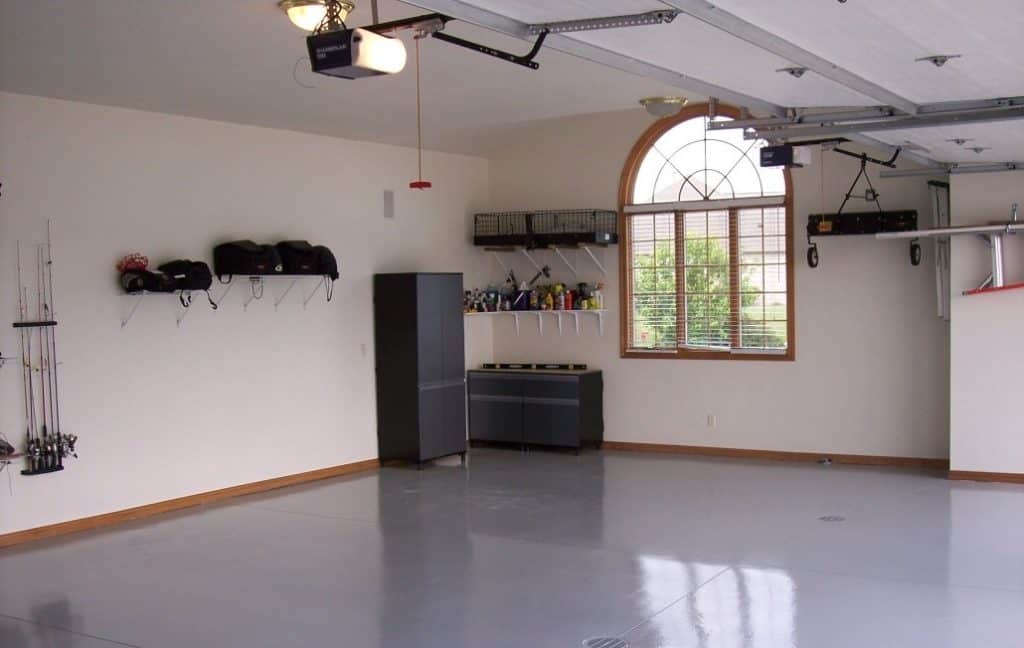 There are many benefits of painting your garage floor. However, many homeowners paint their garage floors mainly because:
It improves the appearance of their homes
It increases the value of their properties
For many homeowners, the garage floor provides more than just storage space for a car or other items. It is a functional space that adds to the overall value of their homes.
Painting the garage floor is one of the best ways to transform an ordinary looking space into an aesthetically pleasing section of your home. When it comes to the base coating, homeowners can choose from a wide range of layouts, colors, and designs.
Consider using garage floor coating that provides slip resistance. In addition, the paint should be resistant to destruction by UV rays.
Factors to Consider When Buying Garage Floor Paint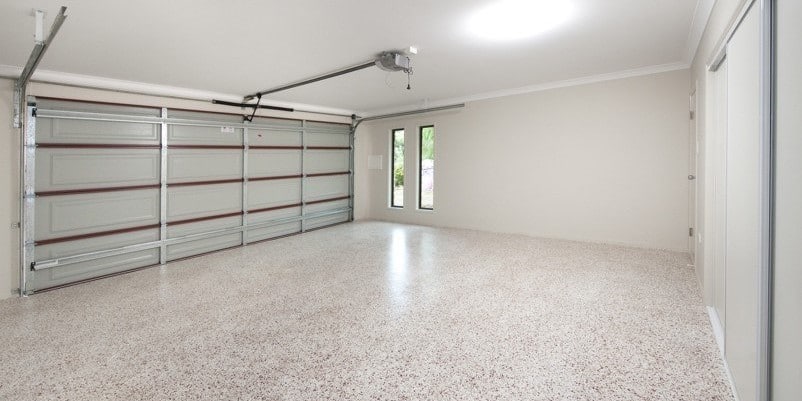 There are different types of paint you could use on your garage floor. Each type has distinct advantages and disadvantages.
Consider various factors when shopping for paint for your garage floor.
Floor Area
Consider the area of the floor to be painted when shopping for paint for your garage floor. Consider measuring your garage floor to get an accurate representation of the area of the floor that needs painting.
Remember, the coverage promised on the lid, is for one coat. Therefore, divide the coverage by two if you plan to add a second layer of paint.
Heat Resistance
Choose garage floor paint that is designed to resist hot tire pick up, which occurs when paint loses its adhesive property and begins to lift.
Hot tire pick up usually occurs when you park your car in the garage on a hot day. The heat between the tires and the floor could cause the paint to start lifting.
The hot tire pick up may transfer to your tires and cause your floor to have bald patches. Buy garage floor paint that is resistant to hot tire pick up.
Appearance
Painting the garage floor is more about improving the appearance of your garage, which increases the overall value of your home. There is a whole range of finishes for you to choose from.
Epoxy style floor paints are becoming increasingly popular for painting garage floors because they allow you to add decorative elements. In addition, they come with colors that they dry into.
Durability
Choose paint that provides a durable finish. Garage floor paints offer varying rates of durability.
Although you do not need the most robust product on the market, choose a paint that will last for many years. The more durable the paint is, the higher its price tag is likely to be.
The type of paint to use on your garage floor all depends on the level of traffic in the garage. If you drive in and out of your garage often, choose a paint that can withstand the traffic.
If you use the garage less often, durability may not be the primary consideration. Instead, color, style, and price may take priority.
Chemical Toughness
The floor paint you choose for your garage should not only be physically durable, but it should also be chemically tough. If you work with various chemicals inside your garage, consider choosing floor paints that can withstand the chemicals.
Chemicals such as cleaning agents, motor oil, solvents, and gasoline may damage some floor paint.
Importance of Painting the Garage Floor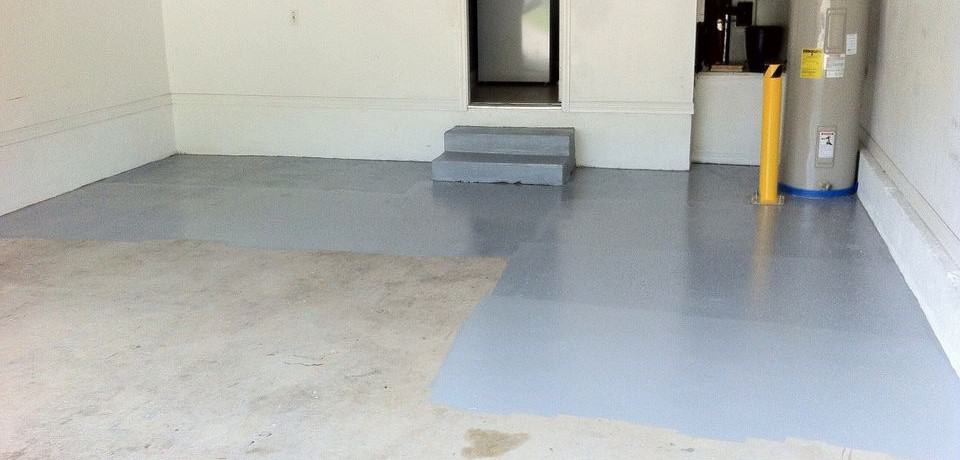 The two main reasons why some property owners paint their garage floors is to increase property value and improve the appearance of their homes. However, there are many other benefits of painting your garage floor.
Protection from Dust
Painting the garage floor protects your home from dust. This is true, especially if your garage floor is made of concrete.
Unpainted concrete surfaces usually attract or create dust. Painting the garage floor prevents the accumulation of dust on the floor and prevents you and other family members from walking into the house with the dust.
General Floor Protection
Cars parked in the garage can leak different types of fluids, including motor oil and windshield fluid. These fluids can damage unpainted garage floor surfaces.
It is essential to say that painting the garage floor does not negate the need to clean your garage floor, especially when you notice fluids leaks.
Aesthetic Appeal
The average cost of building a garage may range between a few thousand dollars to millions of dollars. Even if you already have a garage, the cost of building one gives you an idea of their value.
Like any other part of the house, the garage is highly significant. Therefore, it deserves some TLC, just like the rest of your house.
Paint Types for the Garage Floor
You could use three types of paint on your garage floor:
Standard Paint
This is the most basic type of paint you could use on your garage floor. The advantages of standard paint include:
It is affordable
It is available in a wide range of colors
Although this type of paint may not offer durability, it is suitable for garages with low traffic. If you are going to use standard paint on your garage floor, just know that you may have to repaint the floor pretty soon.
Epoxy Paint
This type of garage floor paint offers some of the benefits of standard paint and two-part epoxy paint. Unlike regular paint, this type of paint contains epoxy.
Although epoxy paint may not last for as long as two-part epoxy paint, it is more durable than standard paint. Some of the advantages of epoxy paint include:
More affordable than 2 part epoxy paint
Low maintenance
Available in a wide range of colors
Easy to install
2 Part Epoxy Paint
The name of this type of paint stems from the fact that it contains epoxy and polyamine hardener. This paint is both physically and chemically tough and, therefore, highly durable.
Although it does not provide the wide color range of standard paint, it allows you to add decorative elements, including colored chips and particles.
Average Time it takes to Paint a Two-Car Garage
The average time it takes to paint a two-car garage varies depending on the type of paint you use. Epoxy paint will not take long to install on a two-car garage.
However, preparing the floor may take longer than the actual painting. The floor must be super clean before you open the can of paint.
Once the floor is ready, you can paint the entire garage floor in less than a day. However, it may take longer for you to walk on your new garage floor.
Check the manufacture instructions on the can for additional information on how to use the paint.
Image Credits: caroutfitter.com / thespruce.com