Having gutters on your house can sometimes be an overlooked aspect, especially as a new homeowner. Then, putting gutters on your garage on top of that seems like an unnecessary requirement. It can be tempting to skip putting gutters on your garage, but you should know the impacts that can have in the long term first.
Do garages really need gutters? Yes. Garages need gutters for the same reasons houses should have them. Gutters help to prevent soil erosion, foundation damage, siding rot, and potential leaking or flooding.
Excessive water draining from the roof can cause damage to your garage and the foundation during heavy rainfall and overtime with frequent rain. In this article, we will discuss some of the main problems that can arise without gutters, types of gutters for different garages, and other general considerations when deciding on garage gutters.
Do Garages Really Need Gutters?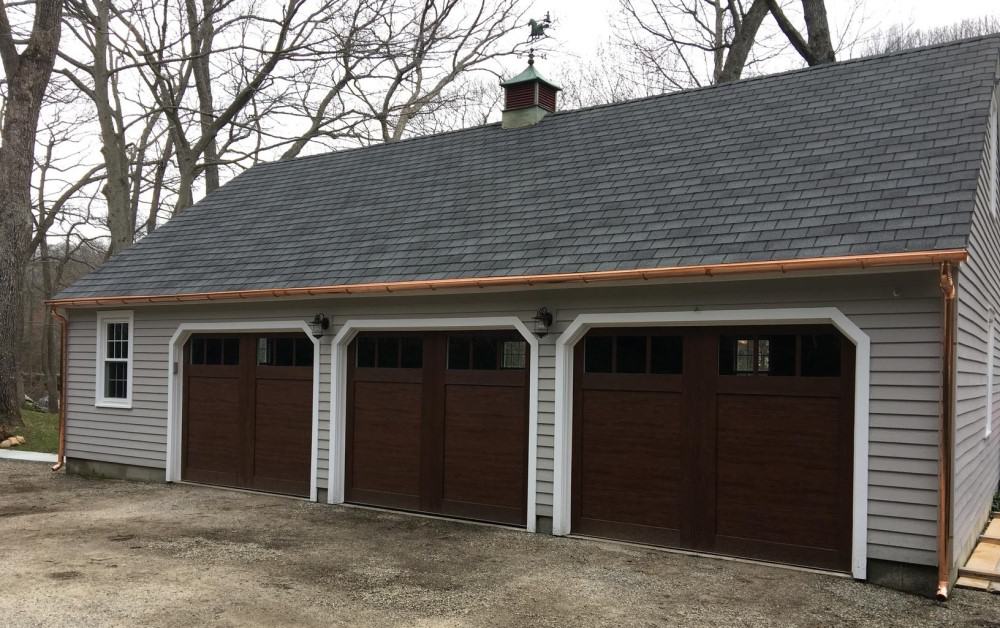 No matter if your garage is attached to your house, built on a concrete slab, or has a full foundation detached from other buildings having gutters is the best way to direct water away from the structure and foundation. Many homeowners naturally install gutters on their garage when it is attached to their house, but it can be easy to overlook a detached building.
It does take time to see the effects of not having rain gutters and downspouts on your garage, but when the issues do start to arise, they will be expensive to fix. Problems can also occur when your gutters get clogged and are unable to drain properly. So, if you have gutters on your house or garage and they're not redirecting the water flow properly, it can cause the same issues we will talk about below.
Problems Caused by Roof Drainage
The primary issue that can be brought on by overflowing gutters or no gutters at all is damage to the building's foundation from soil erosion. While this is usually the worst outcome of roof water runoff, it is not the only concern. Knowing the impacts this seemingly small building aspect can have is a compelling factor when deciding whether or not gutters are worth it.
Soil Erosion
As mentioned above, the foundation of the building will take the brunt of the damage. This damage will occur slowly, over time, unless there is a major water event. The water that drains off the roof of your garage will fall directly to the side of the house, causing erosion. The erosion will first appear as small trenches along the exterior of the building.
Eventually, depending on the location of the garage and the slant of the land, the water runoff can impact your garden beds, landscaping, and cause the foundation to settle. When the foundation of a building starts to settle, you will begin to notice uneven floors or even cracked walls as a result.
If you have a garage connected to the house with a concrete driveway, you may not have the same impact as a detached garage or garage with an unpaved driveway. However, there will still be locations on the other sides of your garage that will be more drastically impacted. You also will need to account for the direction of water flow that comes off the driveway and if that needs to be redirected to prevent flooding in areas of your yard.
Under Door Leaks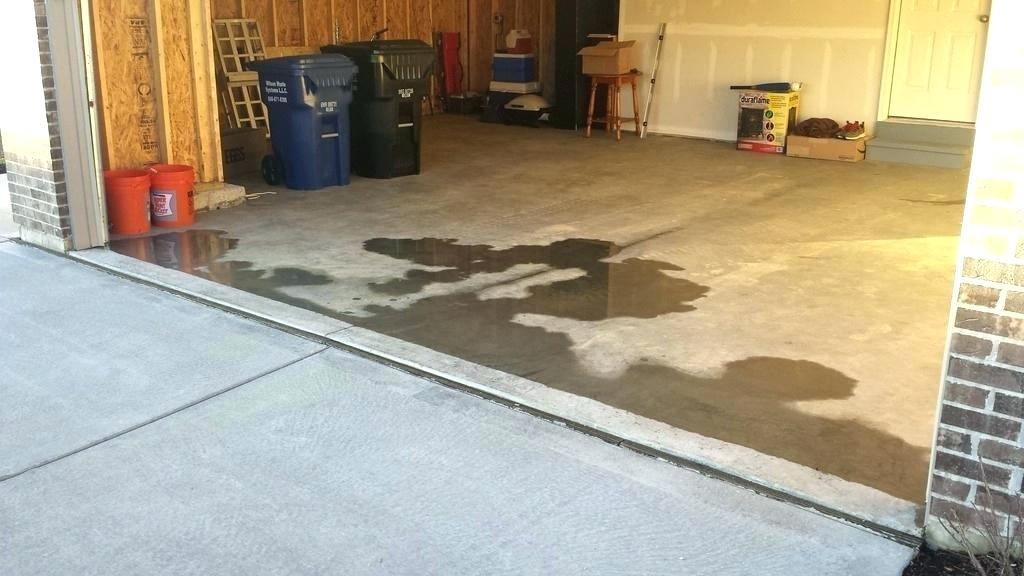 Another common issue that garage owners face when they don't have gutters is leaking under the garage and other entrance doors. This can sometimes be addressed by installing bottom seals on all of the doors, but that is only a temporary fix.
The reason that water is leaking into the garage is that when it rains, there is nothing to redirect the water away from the sides of the building. Just like the erosion mentioned above, this leaking will likely take time to appear and will worsen over time.
As the trenches around your garage become deeper due to erosion, the water will also begin to pool in certain areas. When the water is unable to be distributed, these pools can potentially cause leaks under the garage doors. The issue of leaking under doors may be less noticeable if you have a paved and slanted driveway.
Siding Damage
Damage to the siding will be highly dependant on how far the roof extends out away from the building. Water can potentially drain off the roof and down the side of the building instead of directly to the ground around the foundation.
When the water chooses the siding as its path of travel, this can take the paint off of the siding and cause wooden panels to rot. If you have vinyl or metal siding, it may not cause rot, but it will add some unpleasant looking algae stains.
Water Dripping at Entry
While this issue may not cause direct damage to the building, it isn't enjoyable to the people that come in and out of the garage frequently. When you don't have gutters and water is running off the roof, you will most definitely experience more dripping at entrances. If you are experiencing heavy rain, this can mean walking through a small waterfall when you enter and leave the garage.
Type of Garage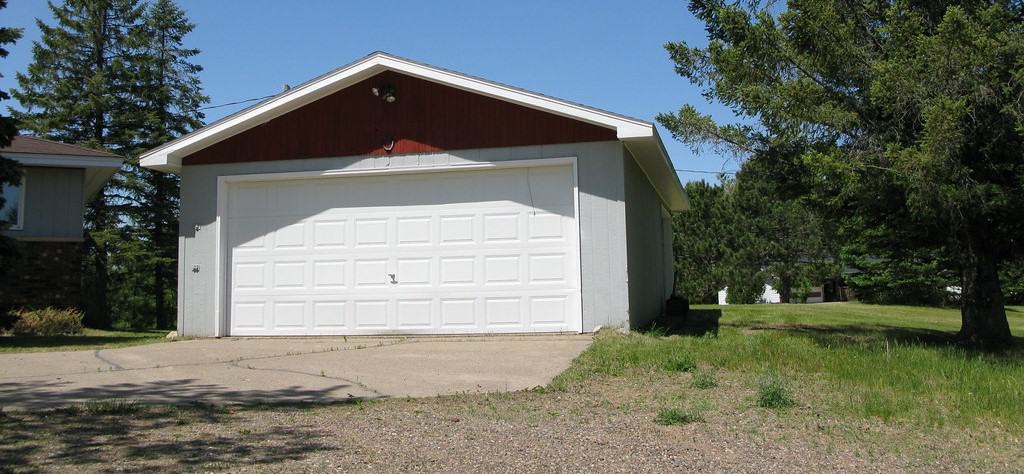 Many homeowners that have a garage attached to their home automatically install gutters when they install them around their house. They may opt to skip the driveway potions to cut some costs, but that is relatively uncommon. If you have a detached garage or recently built a multipurpose garage and shop in the back, gutters may be up for debate.
In most instances, a detached garage needs gutters just as much as an attached one does. While its foundation is not connected to the house, it may not be as "important" of a feature. However, if your detached garage serves as a place to keep your car, a workshop, and possibly storage for yard and garden tools, that is even more reason to have gutters.
With all of these uses, the building itself holds a lot of value, and the items inside are likely valuable as well. Keep your vehicle, tools, and other toys protected from water damage by installing gutters. Plus, if you ever sell your property, a detached garage with no foundation or siding damage from lack of gutters is likely to add a lot more value.
Other Considerations For Garage Gutters
While knowing the potential damages lack of gutters can cause is important, there are a few other considerations to take into account when making your garage gutter decision.
Garage Location
This primarily applies to a detached garage. Some garage owners may choose not to install gutters if the garage is located far away from other yard features or buildings. While it may damage the garage, their thinking is that it has a lower likelihood of damaging other aspects of their property.
So, you should consider if the garage is close to your house or on a hill. Can the slop of the land combined with water runoff from the roof of the garage cause flooding in your basement? Will it potentially damage a patio or deck that is attached? Do you have an outdoor fire pit that would flood from runoff? Are there sidewalks that could erode and crack?
These are all questions to consider when deciding whether or not having gutters on your detached garage is worth it.
Price of Gutters
Another common factor for people when deciding on gutters is the overall cost. The cost of the gutters will depend on the materials used, how many feet are needed, and if you're hiring someone to install them.
The average cost of aluminum gutters breaks down to be $4-9 per linear foot. However, vinyl gutters run a bit cheaper at about $3-5 per linear foot. This is the cost when it applies to homeowners that are willing to install the gutters and downspouts themselves. If you are hiring a company to install them, you can expect prices to be between $1000-3000 depending on the size of the building with additional downspout installation fees.
Image Credits: klauslarsen.com