We have a love-hate relationship with our garages. While they can store some of our most prized possessions, they can also attract grease and oil stains, house dangerous chemicals, and provide a home to all kinds of insects and rodents. As a result, every once in a while, the garage walls need a good old-fashioned cleaning.
Can you pressure wash garage walls? No! As a general rule, even non-commercial grade pressure washers are too powerful for interior garage walls. The most effective and safest method to clean your garage walls is with a large bucket filled with warm water, detergent, a heavy-duty sponge and scrub brush—preferably one with a long handle to get at those tough-to-reach corners.
Every homeowner wants to save time (and a lot of effort) by using the most powerful tools they have handy to get nasty jobs, like cleaning garage walls, done quickly.  You are not the first, and you won't be the last to think this way.  However, taking the time to consider all the options can prevent wasted hours and unnecessary repair costs. 
Why Can't You Use a Pressure Washer on Garage Walls?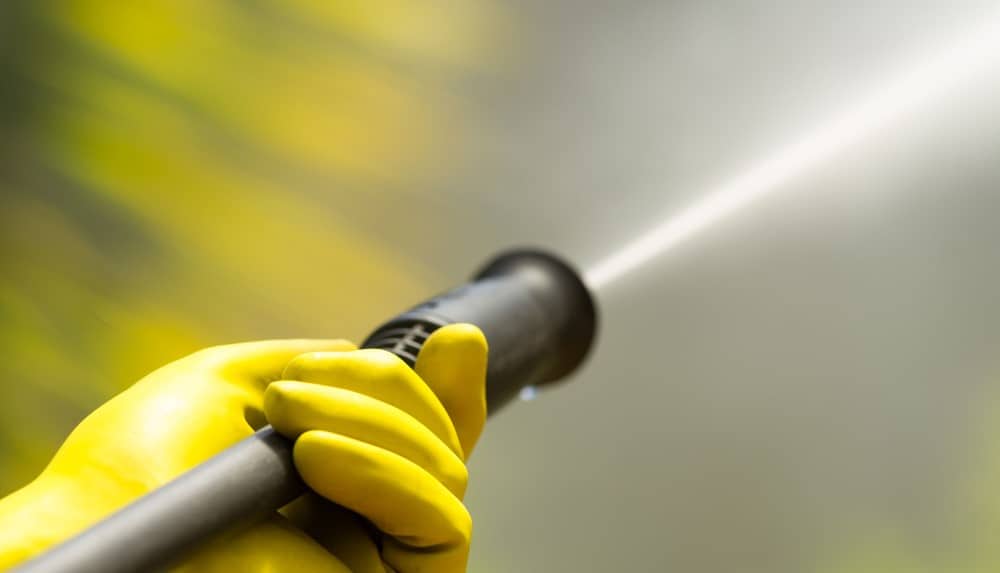 The primary reason to avoid using pressure washers is that most interior garage walls are made of drywall, which will be easily damaged by the water seeping in, especially when under high pressure.
On rare occasions, your interior garage walls may be too dirty to clean by hand, have too much square footage, or access may be otherwise blocked and only reachable using a power washer extension. If this is the case, you may wish to hire a professional company to handle the job. They will have the proper equipment to adapt to any wall surface without damaging them.
That being said, many DIY types will want to save time by resorting to using a pressure washer.
If you still insist on doing the job yourself AND using a pressure washer, here's one approach you can try.
Apply a degreaser at low pressure—about 100 psi or less, keeping in mind that most pressure washers easily reach 2500 psi.
You should then brush down the walls manually. 
Finally, you can rinse the wall with low volume water (1-2 gallons per minute) and at a maximum of 500-1000 psi on your pressure washer.
Here's a handy checklist to get the job done efficiently:
Don't try to work around garage clutter. Pull everything possible out of the garage. Not only will you get a better result, but it's also a lot safer as well. It also provides the ideal opportunity for a "garage junk purge"!
Depending upon the age of your garage, you may need to allow more time for this step that you originally planned. Older garages have infinitely more nooks and crannies than today's newer, space-efficient designs.
Once the garage is empty, using a broom, shop vac, or a vacuum cleaner with a longer hose and bristle attachment, get into the corners and remove cobwebs, spider webs and all loose debris (old plaster, nuts & bolts, and those newspapers from the 1970's).
Your stepping stool or six-foot ladder will come in handy here.
Fill a large bucket with warm water and detergent and scrub the walls. Again, keep a stable stepping stool or ladder handy for the higher spots, especially if you have eaves or lots of overhead storage space. NEVER overreach for these areas!
TIP: To avoid dark stains running down the wall, start from the bottom of the wall and work up, but always start with the walls and then get to the floor last.
Use ammonia on stains the detergent can't remove. This should handle the vast majority of stains you'll encounter in the average garage.
Occasionally, you may have to resort to a degreasing cleaner or some other more powerful cleaning agent. This will depend upon the nature of the stain. (See some detergent recommendations below)
NOTE: Mix one or two cups of ammonia per gallon of water. When using ammonia ALWAYS, make sure you have ample air flow inside the garage and wear a mask and safety glasses.
Don't overdo it on the water. Be sure to avoid pooling the water on shelving, benchtops, and other flat surfaces like windowsills. These left-over puddles can seep into wood and drywall, causing damage over time.
You'll want to make sure the detergent and water mixture dries as quickly as possible, especially if you live in a humid region of the country.
Therefore, good ventilation and a couple of household fans should do the trick.
How About The Other Surfaces?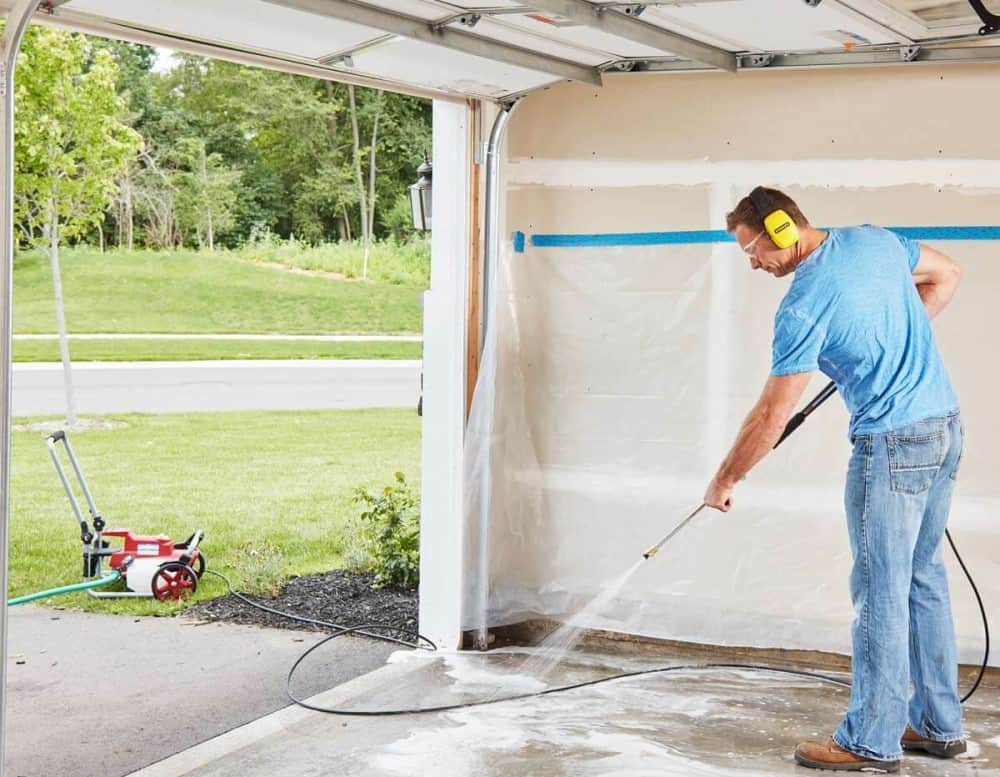 The majority of the above rules do not apply to either the floor or the exterior garage walls. One "wall" where a pressure washer will come in handy is the garage door!
Most garage doors are made of a thin metal barrier with some type of filling material…or they're made of wood. Either way, you should be safe using a standard pressure washer. If the paint on the interior surface of the door is older and peeling, you will likely need to repaint once you're finished.
A word of caution about electronics on any garage walls and another reason NOT to use a pressure washer: Many a garage door opener internal pad has been quickly destroyed by a single pass with a pressure washer. Replacing this mechanism will likely be more inconvenient than the entire cleaning job!
Most garage floors are made of concrete. You would then apply the same degreasing stain remover you used on the walls to any stubborn stains. Let the degreaser sit for 20 minutes and scrub the chemical into the stain to be certain you get proper penetration.
TIP: When it's time to crank up the pressure washer, always test on an out-of-view area of the surface you'll be cleaning to be certain it won't cause any damage to the surface of the floor.
Also, if your garage walls are made of drywall, you should cover them thoroughly. Even then, water will likely find a way in. Beware!
Unless you have a drain inside your garage, it's usually more practical to start at the back of the garage and drive the water and dirt toward the front. Once you've finished the job, be sure to take a regular hose and wash away any chemicals or dirt that remains on your driveway surface.
Exterior walls are generally safe when cleaning with a pressure washer. Although when doing so, it is more practical to start from the top and work down and "cut around" any wooden frames and doors. If the wood is older, a pressure washer can easily cause damage.
How Do You Cut Through Tough Grease Stains?
Between car supplies, lawn mowers, and other oil-covered tools and supplies, garage walls and floors can be covered with years of grime. What's the best way to get surfaces clean again…especially if they're covered with grease?
If you're in the market for a degreaser, here's what the "grease gurus" at Carbibles.com recommend as their top three:
Simple Green Crystal Industrial Cleaner/Degreaser: (the "crystal" refers to the appearance of the liquid). This product is non-toxic, biodegradable, non-hazardous, non-corrosive, and non-flammable.
In many household situations, using a pressure washer can be a huge time and effort saver. However, using one in this situation can end up causing more harm than good.
Save yourself some expensive repairs (and embarrassing explanations) and stick to the "old-school" warm water and detergent option.
In the end, going low-tech provides a great way for the kids to earn some allowance!
Image Credits: aaawindowsolutions.com / familyhandyman.com / thriftyfun.com / eandbcarpetcleaning.com