When it comes to building your garage, you have a variety of flooring options available. One of those options is wood. When a garage is originally installed you are given a dirt floor to work with. A common option is digging out the dirt and pouring the space with cement. This venture can be costly, and although strong, even concrete's integrity can be compromised through heavy traffic and seasons. Wooden flooring, while less common, is a viable option that some garage owners entertain. If engineered properly, wooden garage floors can offer durability that could span a lifetime, proving them to be a worthy investment.
Can a garage have a wooden floor? A garage can be built with a wooden floor. While this is not a common practice, it can be done. Consult with a structural engineer before commencing with this project. It's best to discuss your interests and your structure's requirements beforehand.
Options vary when it comes to constructing a floor for your garage. While you're considering a certain type of flooring, it is just as important to consider what you're using your garage for. A little research yields assorted opinions, but it's best to note that the options themselves exist. If you're using your garage as a workshop, you will be delighted to know that wood can offer a welcoming and comfortable floor. It can also accommodate vehicle storage.
Can a Wood Floor Support a Car?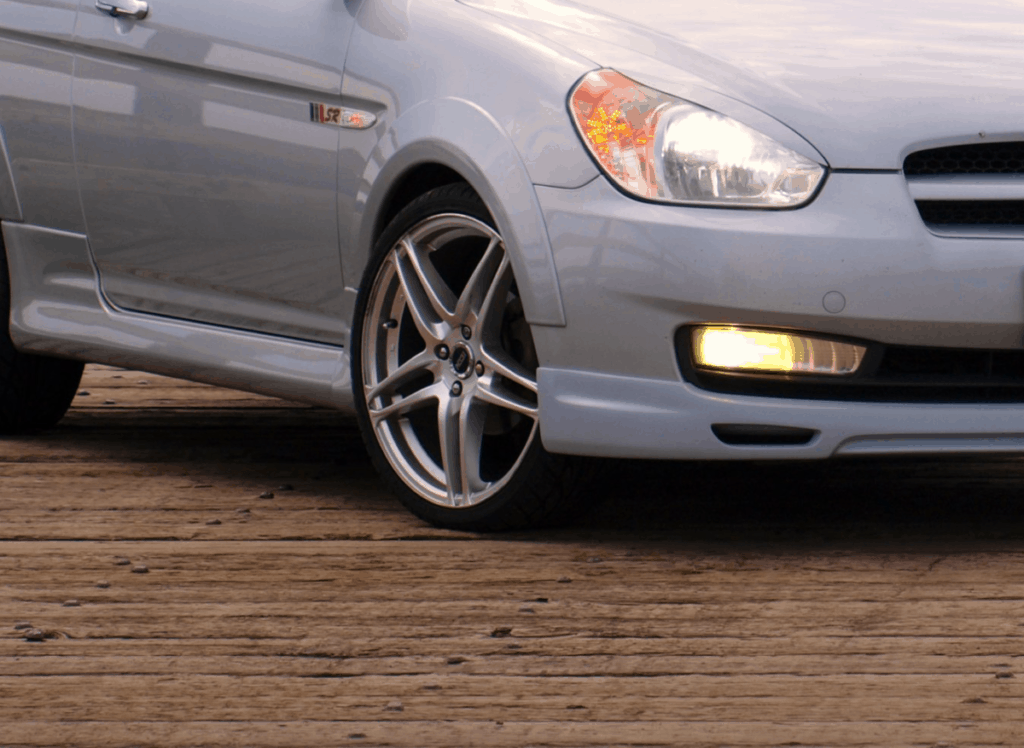 If executed accurately, a wooden floor can support the weight of a car. This fact makes wooden garage flooring a viable option for garages intended for all types of use. The IBC (International Building Code) dictates specific requirements when constructing a garage floor, so that it can support the concentrated load(s) of a 3000 pound vehicle. According to Hansen Buildings, if a garage floor is framed with beams every 12 feet and joists every 2 feet it would meet the requirements needed for vehicle storage.
It is important to note that wooden flooring intended for a parking surface must be made from noncombustible and nonabsorbent materials. You will want to investigate fire-retardant treated wood, as well as a possible water proofer or additional protectant to help it stand up against weathering from motor oil and other elements.
Pros of Wooden Garage Flooring
Perhaps you're still considering what option is best suited for your garage. As discussed, it is often a common practice to pour cement for garage flooring. It can be beneficial to weigh the pros and cons of this particular investment. Let's start with the pros.
Comfort
Durability
Insulation
Ease
1.Comfort
Oftentimes the garage may be a space you plan to spend extended hours in. If you've spent the entire day working on a concrete floor, you've surely felt soreness in your back, legs, and feet by the end of it. Wood floors are an easier option on the body when you're constantly kneeling and standing for work.
2. Durability
Wooden garage flooring can be both a sustainable and durable option. If your wood is pressure-treated, then it can sustain heavy weight-loads. Your garage could not only provide storage but could also house your:
When properly maintained, wood proves to be just as sturdy as a cement slab – and without the wearing and cracking that cement flooring is prone to over time. An added benefit is that if any section were to become compromised or damaged, it could easily be replaced.
3.Insulation
Insulating a cement floor is not as straightforward as your options with a wooden floor. While a cement floor may offer the feature of cooling in the summer months, it can't warm up in the winter. Wooden floors are easy to insulate and could potentially keep your garage's temperatures properly adjusted with the seasons.
4.Ease
An additional benefit to wooden flooring is the ability to easily access the ground beneath it. This is helpful if you want to install a dust collection unit. It also makes it easy to run power just about anywhere. The freedom to work wherever you'd like to in the garage is an attractive factor for many.
Cons of Wooden Garage Flooring
It's dually important to weigh the cons of any decision. While wooden garage flooring can seem a relatively viable and attractive option, it also possesses some drawbacks. Having the entire picture can help you make the best determination.
Fire and Spills
Moisture and Humidity
Pests
Mobility
1.Fire and Spills
As with any wooden structure, the fear of fire exists. It is important to make sure the wood you use is treated, otherwise it could be a fire hazard. Wood is also not as forgiving as cement when it comes to spills and stains. You will have to deal with the inevitable leakage of motor oil if you store your car in your garage.
2.Moisture and Humidity
Wood can warp and deteriorate beneath the stress of moisture and humidity. This poses a cause for concern in a garage space. Using engineered hardwood can assist in combating this, as well as treating and sealing your flooring.
3.Pests
A point to consider when installing wooden flooring is the opportunity to invite various pests into your space. A concrete slab doesn't offer the ability for creatures to nest beneath it. Depending on your location, you may experience or be faced with combatting unwanted creatures in your work area.
4.Mobility
Ease of mobility may be an element you will want to take into consideration. If you have tools, benches, machines, and dollies with wheels, they might be more easily transported across a smooth, cement floor. This isn't to say that a wooden floor isn't smooth, but it may not provide the same experience.
Wooden Garage Flooring: Wood You?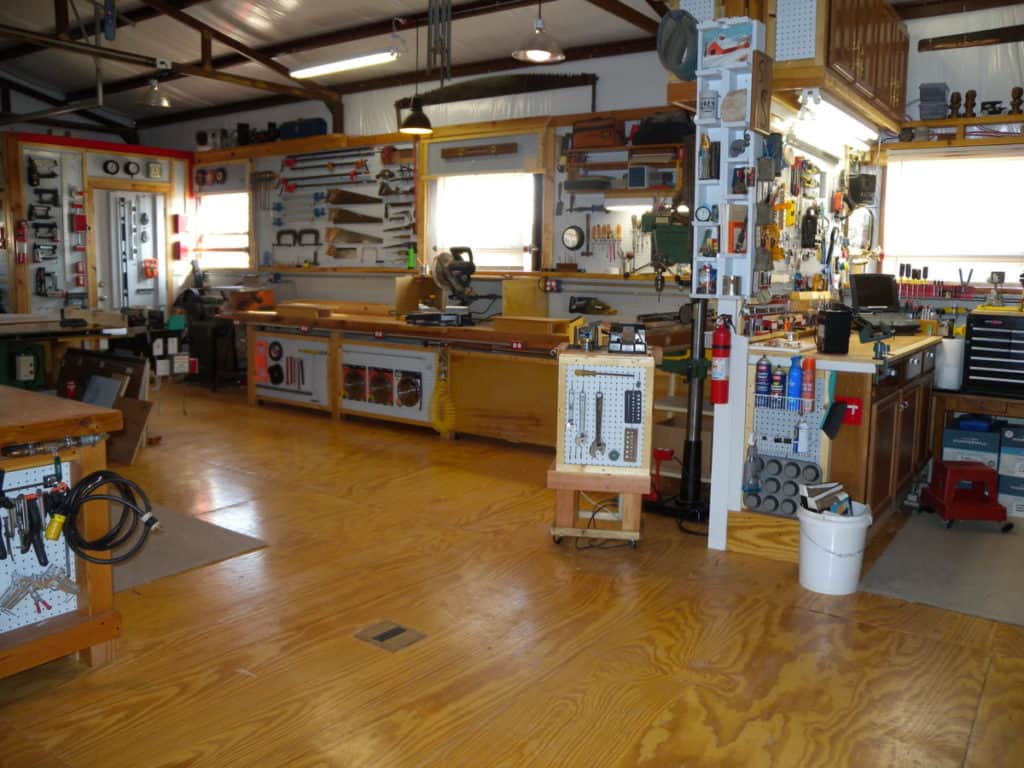 Ultimately the decision to lay your garage with wooden flooring is a decision best made for your needs and for your structure's purpose. If you were once questioning whether the project could be done, may you question no more: wooden garage flooring is a definite option that many contractors offer.
Consider what's important and relevant when you consider your future garage space:
Workability
Comfort
Aesthetics
Investment
1.Workability
Is cleaning and maintenance an important factor in your decision? When maintained properly wooden flooring can be resilient and long lasting. Cleaning is a huge advantage when considering this option. Hardwood floors can be sanded and refinished to accommodate years of gradual (or heavy) wear.
2.Comfort
Will you be spending long hours working there? Whether it be physical support or temperature control, perhaps comfort is a primary concern. Wood is softer on your feet, offering better support than the unyielding thickness of cement. It can also keep you warmer throughout seasonal fluctuation.
3.Aesthetics
A wooden floor may offer a stylish alternative to your garage's floor-space. Wood instantly introduces a warm and inviting look to any space, making it an attractive place to spend time in.
4.Investment
Are you seeking a long term investment that will stand the test of time? Consider the seasons, weather, and temperatures in your area. Consider what you'll be storing in the garage and what work you will be using it for. Wood is durable and can accompany your space for as long as it exists.
Whatever your needs, know that you are well-suited with options. While cement flooring may continue to be the standard go-to for your garage, wooden garage flooring is likewise a practical option.  
Image credits: James Frid from Pexels / mtneer_man from Flickr