For the biking enthusiast, we've compiled a list of the best garage bike racks to fit everyone's needs. These bike racks can keep your ultralight high-end road bike safe while in storage, or hold up to the weight of your heavy electric-assist mountain bike. Whether you're looking for something budget-friendly or high tech for your top of the line ride, we've got you covered.
The best garage bike rack is the Dizra Vertical Storage System. The simple yet practical wall-mount bike rack holds up to 65 pounds and has a lifetime warranty. The two-pack is heavy duty and won't scratch your bike.
Let's learn more about this bike rack, but also a few other incredible options depending on your specific needs.
Best Bike Racks for Everyone's Needs
When purchasing a bike rack, you will need to know the weight of the bikes you need to store, the overall size, as well as the type of tires that you normally use. No bike rack is made the same, so the bike rack that is best for you may not be the same as another.
Here are quick links to all the products listed in our post:
Best Overall Garage Bike Rack
The best overall bike rack for the garage is a simple, low tech solution. This hanging system consists of hooks and wall plates to hang your bike vertically against the wall. The wheels of the bike suspend from the hooks, with the tires against the wall.
This system by Dirza costs only $23 holds up to 65 lbs. They say that the hook design prevents the bike from accidentally getting knocked off the rack, preventing damage to the bike or objects around if it fell.
To work properly, these rack hooks should be screwed into studs in your garage wall. When hanging, the bike will stand out from the wall the height of the seat. However, multiple bikes can hang side by side. One bike would then only take up about 70" by 36" of floor space by standing on end.
Some bikers may believe that suspending their bikes from the front wheel might damage the wheel, spokes, or tire. However, others say that the rims are typically damaged if you aren't careful when hanging your bike. Accidental bumps can still cause scuffs, scrapes, or dents to the rim.
Pros
Easy to install, low cost, and can hold heavy bikes
Cons
Your bike still sticks out pretty far into your garage
Best Vertical Bike Rack without Hooks
If you feel that hanging your bike from a hook will definitely damage your bike, but vertical storage is your only option, there is a bike rack for you.
SteadyRack Bike Rack for wall mounting clamps down on your wheel, rather than hooking through it. The wheel of your bike fit into the bracket so that the tire bears the weight, rather than the rim or spokes accidentally. There are multiple options for different size tires and weights, but the larger racks can carry up to 77 lbs.
The mountain bike version of the rack costs $90. A bottom bracket prevents the back tire from resting on the wall, eliminating dirt and scuff marks. The manufacturer claims that you don't need to lift your bike off the ground, either. You should be able to pick the front tire up and push it easily into the mount without lifting the back tire.
When not in use, the rack folds up so that you don't accidentally run into it but can easily fold back down when you're ready to store your bike.
Pros
Won't damage wheels, safe solution, easy to install
Cons
Pricy, not flexible for different styles of bikes
Cheapest Garage Bike Hanging Options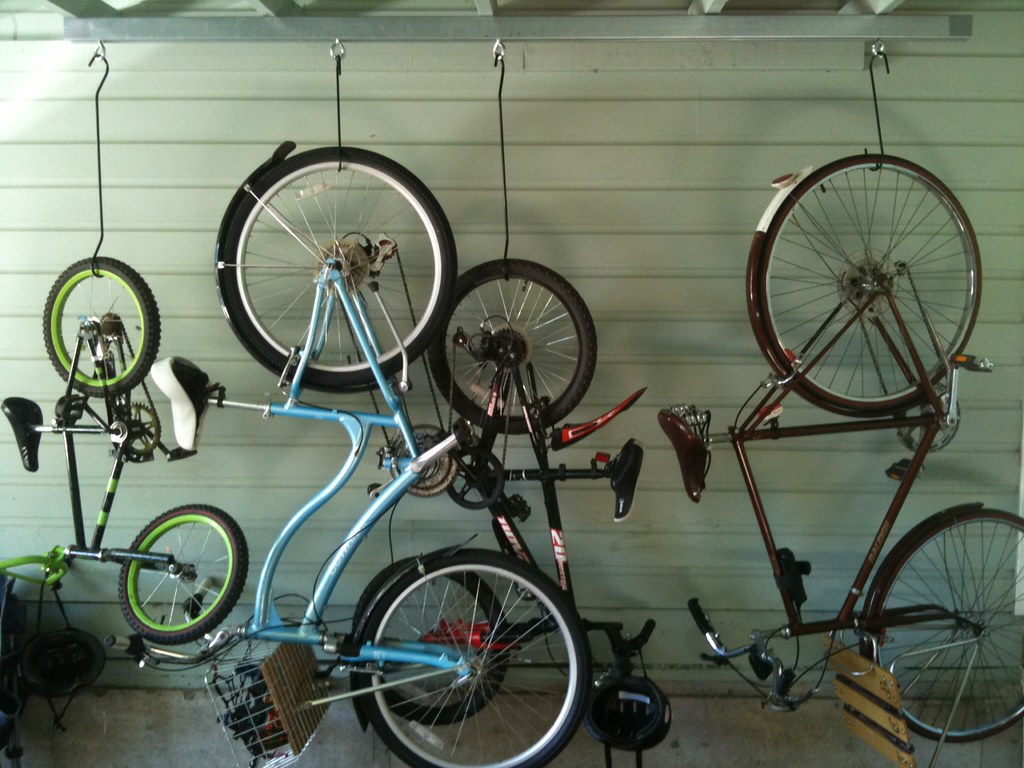 The cheapest and easiest bike storage options for your garage isn't marketed as a bike rack at all. Low-cost wall hooks operate similarly to the Dirza product. However, without a protective plate, your walls could become marred.
To install a bike hook, you'll need some simple garage hooks from your local hardware store. Choosing the right one might be difficult. Consider how heavy your bike is and how the walls of your garage are built.
For example, this Home Depot Bike Hook costs just $2 and can be installed in minutes. First, predrill a hole in the studs of your garage. Make sure you don't just drill through the drywall. Then, screw the hook into the wall. Hang your bike from the hook! Alternatively, you can hang these hooks from the ceiling as well.
If you want to protect the wall from tire marks, you can consider some self-adhesive drawer liner. You can even pick a pattern that would cheer up your garage!
Pros
Cheapest option, easy to install
Cons
Your bikes will dirty up your walls, the screw might tend to pull out of the stud
Best Bike Racks for Minimalists
The most minimalistic bike rack solution simplifies bike storage to a single basic tool. Better yet, the solution doesn't require any screws, bolts, or complicated mounting solution.
Clug Bike Clip is a simple bracket that pops on to the wheel of your bike. For only $25, the bracket can keep your bike upright without a kickstand, or allow you to lean the bike vertically up against a wall. The package also comes with screws to make your Clug permanent and more stable.
Since bikes have different sizes, the Clug comes in different shapes and sizes to fit a variety of different bikes. The bike stands up on its own weight so the Clug doesn't need to hold any weight either. This means that if you can't find a stud, you can screw it into drywall, as long as you don't pull, twist, or tug on it. Better yet, just rest the Clug against any wall you find, without having to mount it to anything.
Since the Clug holds onto the tire of your bike, you have to make sure you know the size of your tire to order the right size Clug. You don't want to buy one that is too tight or too loose. Even the pressure of your tire could affect how snug the Clug holds on. Some users say finding the right fit might be difficult.
Pros
Easy to use, doesn't take up a lot of room, flexible mounting configurations
Cons
High price for what it is, not flexible for multiple styles of bike
Best Rack for Bikes with Trailers or Childseats
With kids, you always have more equipment and supplies to tote around. When you get back to your garage, you need a place to store all that extra stuff. Luckily, you should be able to find a place on your trailer or car seat to hook into.
Consider this pulley system from Hosko costs just $20. On one hook, you can hoist your own bike while on a second one you can lift your child's trailer. The system can pull objects up to 10 ft up in the air and lifts up to 100 lbs.
While more expensive systems may be able to hold multiple bikes, trailers, or other bulky items, this solution is cheaper for the same number of objects. If you need three pulleys for his and her bikes plus the child trailer, the total cost would only be $60 versus some of the more expensive systems. Any parent with a young child can appreciate a little cash back in the pocketbook!
Like many of the other mounting systems, in order to lift the full weight the rack is designed to hold, you need to attach the bracket to the studs in your garage's ceilings.
Pros
Gets your bike off the floor, easy to use pulley system
Cons
Each rack uses two hooks to hang one bike or accessory, so need multiple racks for multiple bikes or accessories
Bike Racks for Wall Mounting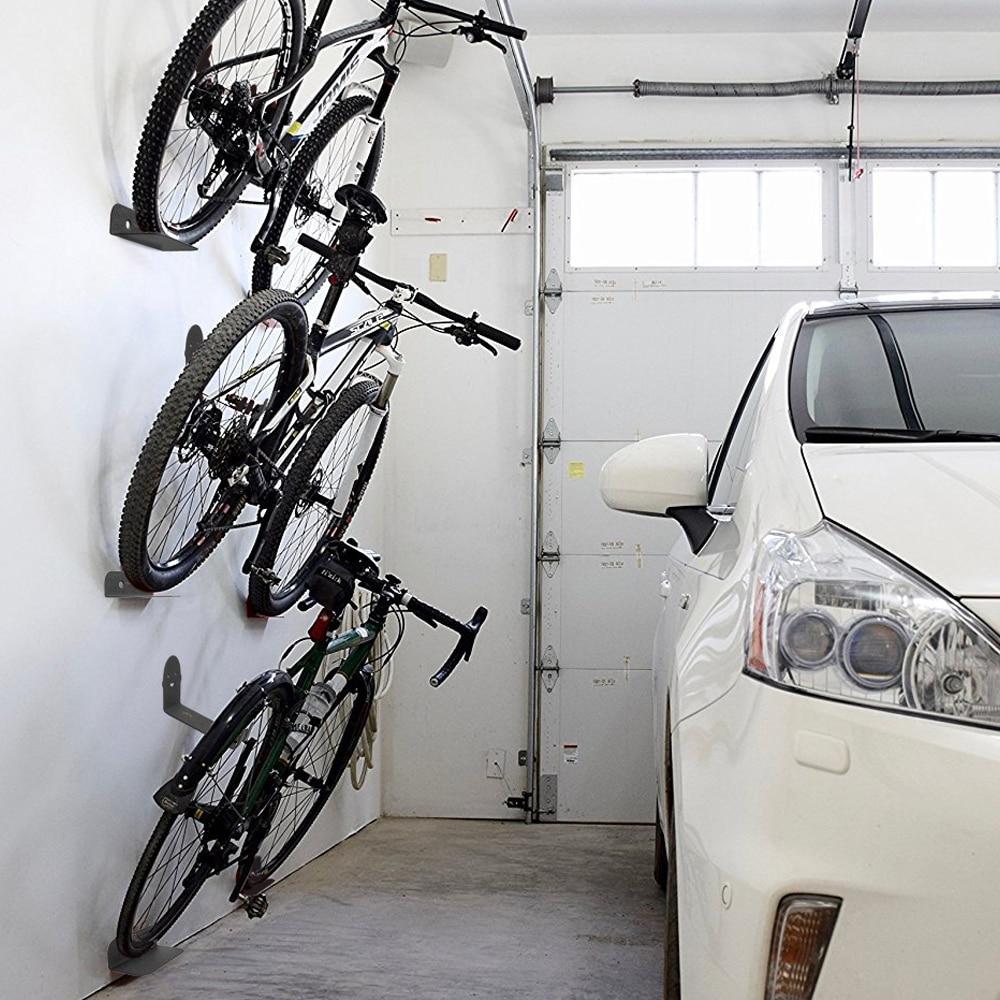 Saving floor space in the garage with multiple bikes may mean hanging your bike parallel to a wall. By hanging your bikes against the wall on the long dimension, they stick out less from the wall than other options. Depending on how much height you have, you may be able to stack multiple bikes on your wall.
Zincera makes a rack that saves vertical space and floor space.The system costs about $60 and holds up to 220 lbs on each rack. With multiple racks, you can hang several bikes on a single wall. The frame of you bike sits in the top bracket, while the back tire rests on the bottom plate, which prevents scuffing on the wall.
The product consists of a bottom support shelf and a top hanger that can rotate, adjusting the angle of your bike. Since the top bracket is adjustable, you can pick different angles to allow your bike to sit closer to the wall, or further out into the floor.
So, if you have more height on your wall, you can angle the bike further to stack additional bikes in a shorter height.
Pros
Requires less floor space, adjustable mounting angles
Cons
You may not be able to reach the top bikes first if the other bikes lower are in the way
Best Bike Racks for Ceiling Mounting
If floor space in your garage is limited, consider taking advantage of overhead space for hanging your bikes. You may need to consider the overall height of your garage, the height of your bikes, and the height of any vehicles you park underneath.
This ceiling rack system from Saris is an expandable track system. The basic rack comes with space for four bikes but an add on option adds rails for two additional bikes. The price point is higher than many options at about $245. The add on kit is about $115.
Customers' reviews indicate that they love the system. However, there may be a minor flaw in one of the clips that can be easily be replaced. With the added strength, the system operates phenomenally.
Depending on the weight of your bike, though, it may be difficult for you to lift a bike over your head. Road bikes weigh about 20 pounds, mountain bikes about $30 pounds, and e-bikes about 50 pounds.
Pros
Easily hang multiple bikes overhead, expandable system
Cons
Expensive, and a small part is prone to failure (though easily fixed), must be able to lift your bike over your head
High-End Bike Racks for the Garage
For those looking for a high tech solution, you can find an endless list of expensive options. Motorized bike racks take the physical work out of hanging your bike on walls and ceilings. If you can't lift a bike over your head to hang a bike on a hook, a power-assisted option can help.
Garage Gator makes a lift that supports up to eight bikes. The motor is able to lift up to 220 lbs, so if you maximize the number of bikes, each one should be less than 27.5 lbs. However, the price point is $415, making it the most expensive option on this list.
To operate the lift, the bikes should first be hooked into place. The hook wraps around the stem of the seat, where the seat can bear down on the rod. Once all the bikes are hooked in, the wall switch activates the motor, raising the lift up into the ceiling of your garage.
Pros
Motorized system eliminates lifting, can store multiple bikes overhead
Cons
Expensive, doesn't have a large weight limit
Best Freestanding Bike Rack
Even if you don't have wall or ceiling studs that you can mount too, you can still find bike rack options to save space in your garage. A sturdy freestanding rack should hold the weight of your bike without toppling over. Even the best-designed racks could topple if you accidentally drop the bike or fall into the stand accidentally.
This freestanding bike rack from Cycling Deal fits two bikes, freeing up floor area in your garage. The rack can support up to 55 lbs per bike and is adjustable to accept different size and style bikes. At about $90, the manufacturer also provides a lifetime warranty if the stand fails.
This option allows you to move the stand around as needed to accommodate space in your garage. If you move around a lot or rent your home, this option prevents you from having to patch holes in your walls.
Pros
Doesn't require mounting on a wall or ceiling, can be easily moved around
Cons
Could be knocked over
High-End Freestanding Bike Rack
One of the highest-rated bike rack options is the Delta Michelangelo. Customers love the sleek design and aesthetic appearance. This rack leans against a wall, which means that the more weight added to it, the more sturdy it becomes. While technically it's not freestanding, it doesn't require attaching to a wall for support.
There are two bike and four bike options. The max weight of the rack 100 lb for two bikes, similar to the Cycling Deal rack. The Michelangelo costs about $60. The frame of the bike rests in the arms, which can slide up and down on the frame to fit different bike shapes and sizes.
Some customers say that if you need to support a women's bike with a smaller frame, you might need to add horizontal supports to hang the frame. Others say that you can simply rotate the bike to mount them vertically. While the rack has largely positive reviews, other customers note that the rubber coating on the hooks can split while adjusting.
Pros
Stylish and sleek, doesn't need mounting screws
Cons
Fragile rubber coating on hooks
A Do-It-All-Bike Rack for the Garage
If you need a place to store your bike, helmets, water bottles, gloves, packs, or other biking accessories, you may want a rack that can offer storage for more than just your bike.
BirdRock makes a freestanding bike rack and storage solution to hold multiple bikes. This rack costs about $93 and holds up to three bikes. There's no lifting involved as you just roll the front tire into the bracket. This rack is similar to many public bike racks and is easy to use.
The top basket measures 10.5" wide by 31" long by 4.5" high, which should hold multiple helmets or other objects. There are also hooks on the sides of the rack for additional storage.
If you're a family on the go, this rack will keep everything in its proper place, keeping your garage organized and clutter-free. However, the overall rack size with the length of the bikes takes up more floor space than other solutions. With three bikes on the rack, the total floor space used would be about 4' wide by 6' long.
Pros
Holds multiple bikes, provides storage for accessories, easy to use
Cons
Requires some assembly, uses more floor space than other options
Best Bike Racks for Everyone's Needs
When purchasing a bike rack, you will need to know the weight of the bikes you need to store, the overall size, as well as the type of tires that you normally use. No bike rack is made the same, so the bike rack that is best for you may not be the same as another.
Here are quick links to all the products listed in our post: