If you have ever purchased or built a house, you know there are several different features that you look for. One popular feature is a basement. In most homes, the basement follows the footprint of the above-ground structure. However, some homeowners take basement building a step further and want to include a basement under the garage floor.
Is a basement under the garage a good idea? A basement under the garage is possible and is a great way to add extra space to your home, but it takes careful planning and extreme precision when executing the plan. You must remember a garage floor is responsible for holding an excessive amount of weight. If it isn't constructed correctly, you are sacrificing the integrity of the structure as well as your safety.
Can a Garage Have a Basement?
Although not common, garages can most certainly have basements. Many individuals choose to have a workshop area under their garage, while others prefer a living or storage space. No matter what you use the space for, it is possible to create it.
It is not recommended to build a garage under the basement yourself because there are many factors to take into consideration when planning, such as:
Is the cost worth the hassle?
Is it possible to build up or out?
Is it less expensive to purchase more land to expand on?
Is the Cost Worth the Hassle?
The cost of putting a basement underneath a garage varies based on your location and the construction company you work with. If you are living in an area where extra space is scarce, a basement under your garage may be the perfect option.
When exploring the cost of the construction, be sure to work with a company that has experience with this type of construction. You must remember safety is going to be of utmost importance. The weight that will be held by your garage floor is significant, so you want it to be built well.
Is It Possible to Build Up or Out?
In most locations, there are strict building codes in place, especially in more urban areas. However, before beginning a massive project, you should check the building codes to determine if you can build another floor above a garage or if part of your existing home can be extended.
These are major construction projects but will likely be less costly than building a basement under a garage. So, they are worth looking into if the cost is an issue for you.
Is It Less Expensive to Purchase More Land to Expand On?
When planning to build a home with a basement under the garage, it may be wise to determine if there are other parcels of land that would allow you to build without putting the basement under the garage. You will have an upfront cost with the purchase of the property, but in the long run, it will likely save both money and time.
Building a Basement Under a Garage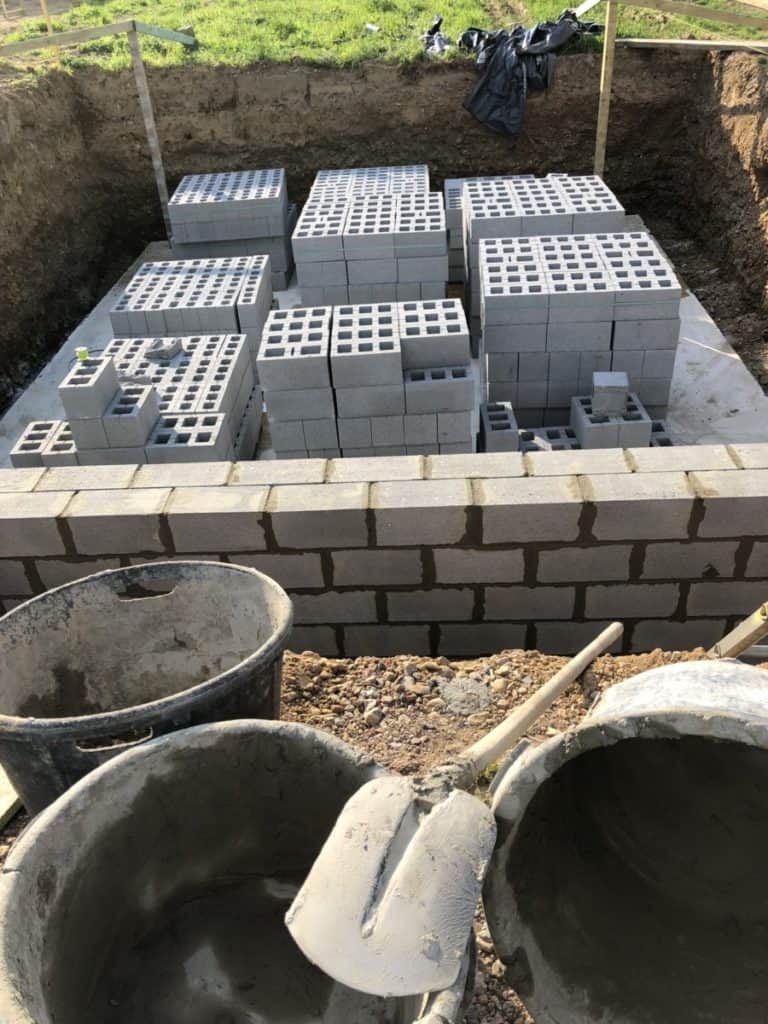 If you have looked at all possible options and have decided that building a basement under your garage is your only option, there are some essential things you need to keep in mind when preparing to put a basement under a garage.
Materials
Steel reinforced foundation walls on all four sides, a minimum of twelve inches thick.
Pre-engineered concrete floors in the garage with flexicore
A crane to lift the prefabricated floors.
The materials listed above are standard for a project of this magnitude. A contractor that is certified to build a basement under a garage will likely have a specific manufacturer to purchase the materials from.
When placing the floor onto the foundation, the flexicore must be attached to the walls to ensure the stability of the floor. If you are planning to run pipes or anything to the basement, you will need to plan to do so, as this flooring is very difficult to cut through. Therefore, other modifications may need to be made.
What is Flexicore?
This material is typically found in industrial construction projects where multiple stories are to be constructed. The material is weighty because of the steel beams inside the concrete, so a heavy-duty crane is necessary. It is ideal for this type of project because durability and safety are critical.
Considerations
When planning to build a basement under a garage, many variables can impact your ability to do so. Even if you have the financial ability to build the basement, other factors will play a part in your decision, some of which you can't control, such as zoning and insurance issues.
Some questions to ask yourself while planning your basement include:
Is there proper drainage around the foundation?
Has the garage floor been adequately sealed?
Will your insurance cover this type of addition?
How will you access the basement?
What is the purpose of the basement (storage, living space)?
What are Basements Under Garages Used for?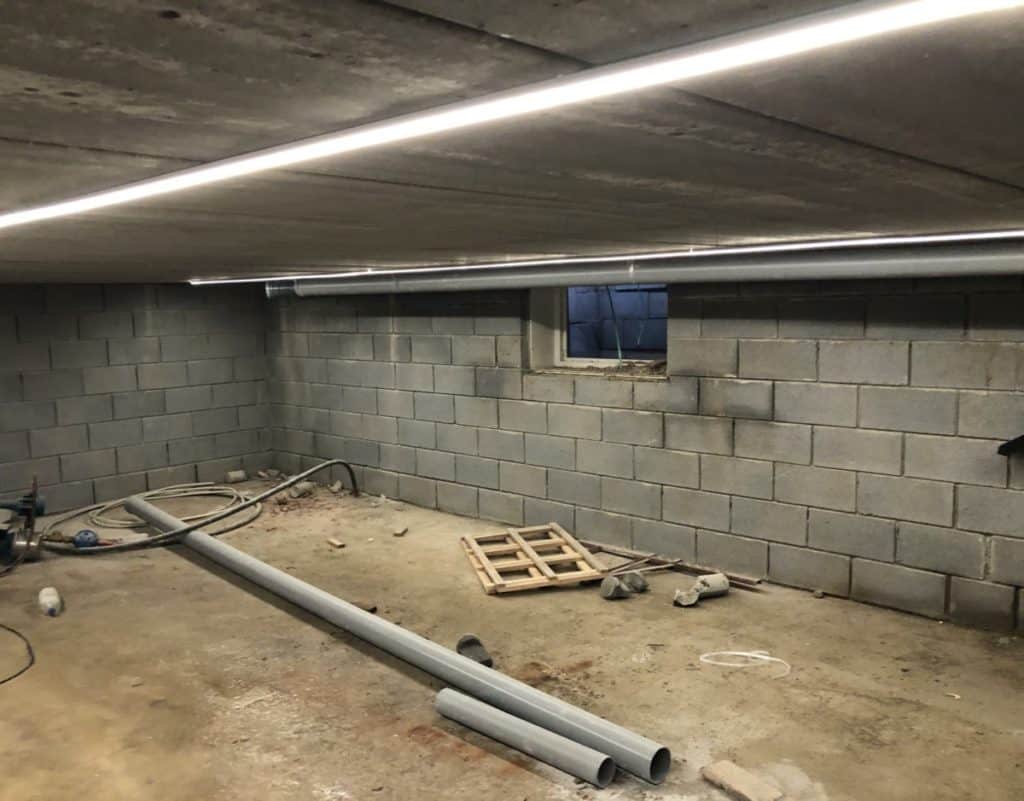 People build basements under the garage for many reasons. Some of the most common reasons are a theater room, workshops, and storage. It is important to know the purpose of the basement before building so that you know what modifications may need to be made.
For example, if you are planning to store vehicles or lawn equipment in the basement, you will likely need a ramp to move them safely. If this is the case, you need to determine where the ramp will be located and if the access point will be through the garage or from the exterior.
If you are using the basement for a living area, such as a theater room, you will want to make sure the garage floor is sealed and insulated correctly, so no fumes or moisture get into the basement area. You will also want to use this to gauge any supports that are needed. If it is a living area, you will likely not want to have excess poles in the basement.
What are the Problems with a Basement Under the Garage?
Although it is a fantastic way to use all available space, many problems can come with the construction of this type. Some of the most common issues are:
It takes a long time to build the area. Because of the amount of careful planning and materials needed to execute the building of such a space, it is not something that can be done quickly. This could lengthen the amount of time required to complete your construction.
You must hire an engineer to complete the project. This is not a simple task. Most general contractors are not licensed or certified to complete a job like this. If you don't hire a trained professional, it could become a hazardous addition to your new home.
The home may not sell well. If you are planning to sell your home eventually, this may not be a feature that is coveted by all buyers, which may make the home difficult to sell.
What are the Benefits of a Basement Under the Garage?
Knowing there are downfalls to most plans, there is also a wide range of positives. Although challenging to construct and plan, a basement under the garage can be a helpful addition to any home for these reasons.
Added storage space: Many people use this space to store seasonal home equipment such as lawnmowers, snowblowers, etc.
A safety room: Because of the strong foundational walls and underground location, it is ideal as a storm shelter.
More living space: If you are searching for a way to add living space, this may be a great way. Some people use this as a theater room or even a recreation area for pool tables, etc.
Final Thoughts
As you can see, many items need to be considered when deciding to build a basement under your garage. If you can secure the proper permits and are lucky enough to find an engineer to work with you on the project, this is a fabulous way to add space to your home.