Whether space is tight in your home or you're creating a laundry room in your garage cave, there are a plethora of reasons why you may want to move your tumble dryer into your garage. Before you make the move, there are a few factors to keep in mind for functionality and efficiency that we will cover in this article.
Are tumble dryers ok in a garage? Condenser and heat pump tumble dryers cannot function properly in temperatures below 10°C/50°F, making them a poor choice for a garage that is not climate controlled. Vented tumble dryers are ok in garages as long as there is outdoor ventilation available.
To ensure you're equipped to move your current dryer into your garage or prepared to buy the optimal dryer for your space, there are some important aspects to consider. Moving your dryer into your garage without being properly prepared could result in damage, undried clothes, or mold riddling your space.
Important Considerations in Choosing Your Dryer Type
To figure out the best tumble dryer for your garage, or if your current unit is equipped to be moved to your garage, there are a few foundational questions you need to ask yourself. The most important considerations that impact your dryers' functions and efficiency that we will cover include:
Dryer type
Climate inside and outside your garage
Insulation and temperature controls
Location of your dryer
Ventilation
Dryer brand recommendation included
However, before jumping into this information, it is important to start by identifying the kind of dryer you already own and the kind of dryer you will need if you are to set up an operational tumble dryer in your garage.
What is the Main Difference Between Dryer Types?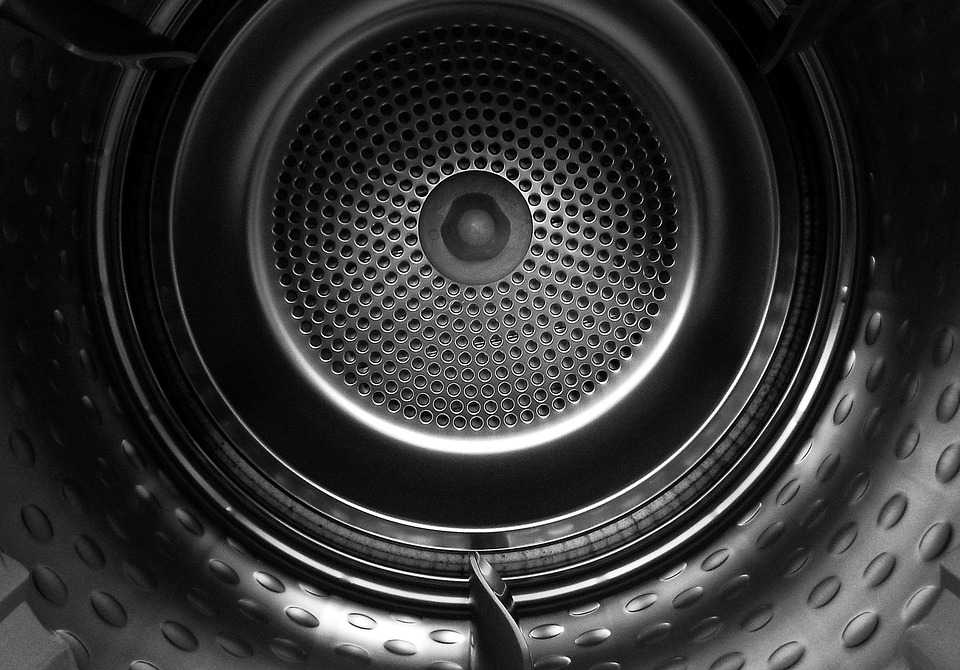 Before you can identify which dryer is right for you, it is essential to learn the differences between the three different kinds of dryers, the condensed, heat pump, and vented dryer.
| | | | |
| --- | --- | --- | --- |
| | Condensed Dryer | Heat Pump Dryer | Vented Dryer |
| Ventilation | Not applicable | Not applicable | Needs outdoor access for vent |
| Temperature | Requires temperature of 5°C/41°F | Requires temperature of 10°C/50°F | No temperature restriction |
| Cost efficiency | Most expensive | Average | Least expensive |
| Energy efficiency | Least energy efficient | Very energy efficient—uses heat pump instead of electricity; will take slightly longer to dry | Energy efficient |
| Maintenance | Need to empty water reservoir (will freeze in cold conditions) | Need to empty water reservoir (will freeze in cold conditions) | No daily maintenance required |
The Climate of Your Garage
The climate not only inside your garage but outside your garage is critical for the functionality of your tumble dryer. Here are a few things to consider when it comes to garage temperature:
It is important to look at how cold your garage gets, and if you have a way of temperature controlling your space. In a standard garage used primarily for car parking, it is challenging to regulate the temperature. For a garage that has been converted into more of a garage cave, you may have less of an issue with the cold temperatures coming into your unit.
Do you live in a climate where the outdoor temperature does not drop below 10°C/50°F? If so, you probably do not need to think about when looking at moving any dryer type to your garage. This may also help you avoid buying a new unit.
If you have a garage cave, this may be the perfect spot for your dryer as you are likely climate controlling the space similar to how you would in your home.
For those with garage caves, it is common to build a separate room within the garage to keep your washer and dryer. This creates a more classic laundry room that will not take space in your home.
Vented Dryers
Now that we have identified the optimal dryer type for a garage space, let's cover a few more important points about the vented dryer.
Since vented dryers do require a hose, it is important to ask yourself if you have an appropriate location where the ventilation system can access the outdoors. If you do not, this may be a concern! Without ventilation, your garage will get damp, which could cause mold or rusting of other items in your garage.
If you do not already have outdoor access, do you have the ability to create ventilation? To put a hole in your garage for your venting system will require a professional which will cost you money. Alternatively, if you have experience with this kind of installation, you could create a hole in your wall for the vent hose yourself. This is not recommended for those who do not have building experience as you could make your garage structurally unsound and create safety concerns.
Some people choose to hang their vent hoses out of their garage windows; however, for those who have a garage cave, this may not fit your aesthetic or be impractical. This may be a good temporary fix but is not a long-term solution for ventilation.
Reasons to Avoid Putting a Tumble Dryer in Your Garage
Although tumble dryers are ok to put in your garage, there are a few factors that may limit your ability to make this move, including:
If you only have a condensed or heat pump dryer, you may want to keep it inside your house for optimal functionality.
If you're moving a vented dryer and do not have or do not want to create outdoor access to ensure proper ventilation.
If you do not have the resources necessary to create a hole for your vent hose.
If your garage is not insulated or climate controlled, it may get too cold for your condenser or heat pump dryer.
If you live in a very cold climate, your garage may get too cold even if you insulate part of it. In this case, you would need a way to control your garage temperature if you are set on moving your tumble dryer.
Check your warranty! Many dryers are not covered by their warranty if users place them in their garage as low temperatures can cause malfunction. If your current dryer is not covered by part warranty, if you switch its location to your garage, consider keeping it in your home.
If you do not have a dehumidifier or a way to control the humidity while drying larger items such as bedding, you may experience mold in your garage. Drying larger items causes an increase in water vapor leaving your machine, which may require additional ventilation.
Recommended Dryers for Your Garage
For many readers, you may be hoping to move your current dryer to your garage, despite the dryer type you already own. This may not be the best decision, as your efficiency may decrease with the colder temperature of your garage. If you do not already own a vented tumble dryer, we would recommend looking into buying a new machine.
Based on consumer feedback from those with dryers in their garages, the Splendide 120V Dryer is said to be effective and equally efficient in a slightly lower temperature. The warranty on this unit does not specify a lack of coverage for those placing the unit in their garages—therefore, your warranty will not be invalidated by moving this dryer into your garage. This dryer is specifically designed to be energy efficient and dry your clothing quickly while producing enough heat to keep itself warm in a colder environment.
When looking at new units to potentially purchase for your garage, read through your warranty for any caveats based on where your dryer is set up. If a warranty specifies invalidation for garage units, this will not be the right unit to fit your needs!